Which antivirus is best for Windows 11?
Windows 11 has been released with massive updates to its security system. When it comes to Windows 10 and Windows 11 comparison, the new OS version shows up to be fully reworked in the security features. New Microsoft Defender impresses with the functionality of controlled folder access, tampering and application control. A lot of cybersecurity analysts concluded that Defender in Windows 11 is ready to squeeze out the majority of anti-malware solutions.
Nonetheless, a number of users deny the default security solution. They name different reasons for that: from high resource consumption to unwillingness to share the data with Microsoft. MS Defender requires the telemetrics services enabled to show the max efficiency. Also, it is vulnerable to malicious attacks. Even in Windows 11, where it is more sustainable to virus interruptions, its efficiency may easily be compromised by disabling the connection to the cloud database with malware signatures. In contrast to third-party antivirus solutions, that also use this technology, it uses the standard connection routes, which are very easy for malware to block.
General question
So which antivirus is best for individuals in 2022? The answer is not straightforward, same as the assortment of antivirus products available on the market. A lot of antiviruses offer plenty of complementary functions – VPN, disk ciphering, keychain, parental control features. The problem is that the majority of these functions are not needed – or needed only partially. Moreover, users often complain at the quality of these features and prefer to use a separate solution. So which one is really good and will fit everyone? Such antivirus likely does not exist. Let's check out the best ones – and you will likely figure out what antivirus is best for your needs.
Pointing out the key features
Security tool is about security
A good antivirus solution must be a good security shield for your PC – that is the main function of this class of software. When it has a lot of complementary features, but cannot secure your system from actual malware – is it an anti-malware tool at all? Nonetheless, it is pretty hard to figure out the real-world efficiency of each tool – such testing requires long testing along with provoking actions which usually lead to security compromising. Other testing shapes are considerably non-relevant and will not show the real protection rate. That's why I tried to use the AV-TEST ratings – for the tools that are listed in this rating, of course.
Antivirus must have proactive protection
The second function which is likely essential in the modern environment is proactive protection. This type of security mechanism scans the running applications and the whole system for malevolent changes. When one is detected, the security tool blocks it and checks it by the signature databases. If a match is found, the item will be deleted. That function is extremely demanding, since modern viruses are fast, and we constantly download and run something from the Internet. Launching the full scan after each download is dreary, so the proactive protection makes you free of that routine.
Redundant is abnormal
Third thing to pay attention to is complementary functions. This time, there is no strict opinion: someone needs all of them, some users will like only 1-2 of them, and some will not use features at all. The reasons for such a dispersion are hiding not only in the needs of a certain user. Each additional function of an anti-malware program means the additional resources consumed. This thing is critical not only for the users of weak computers. Gamers also suffer when their antivirus solution consumes up to 2GB of RAM and certain CPU capacity just because it decided to do something in the background. Paranoid users also dislike the additional functions, because they are potentially exploitable, or can even deliver sensitive information or telemetrics to the AV vendor.
Under these criterias, we already have some anti-malware products to show you. Besides ones that are present in the AV-TEST rating, you will also see ones that we have tested manually. It took a certain amount of time, but for testing a couple of products the required time is still reasonable.
Rating of anti-malware tools for Windows 11
This lineup is composed of antivirus software that has as close characteristics as it is possible. Since the characteristics I offered above assume a pretty strict range of programs, this lineup will not contain any "all-in-one" solutions. Some of the vendors offer both full-fledged and lightweight variants of their tool – and that's great. Isn't it a good choice – a well-known antivirus, famous for its efficiency, but without excessive functions?
But first, let's have a look at a dark horse. Those programs are developed by small anti-malware vendors, but have surprisingly good efficiency and amount of functions. Some of them are even listed on AV-TEST, but they still have relatively low popularity.
BullGuard Antivirus
We reviewed it this year, and during our tests, it showed perfect efficiency. There was the only problem named in the review – extremely high CPU and disk load, which is not OK for a lightweight program. Another thing, which was not mentioned in that article, was pretty strange heuristic engine results. In some cases, it was working great, showing a high efficiency of on-run protection.
Meanwhile, when I tried to use it on my home computer, this tool began blocking the self-made tools on the computer. They are written in Java, and some of the antivirus engines consider all of them as potentially dangerous. That disadvantage is not critical but still can create discomfort for its users.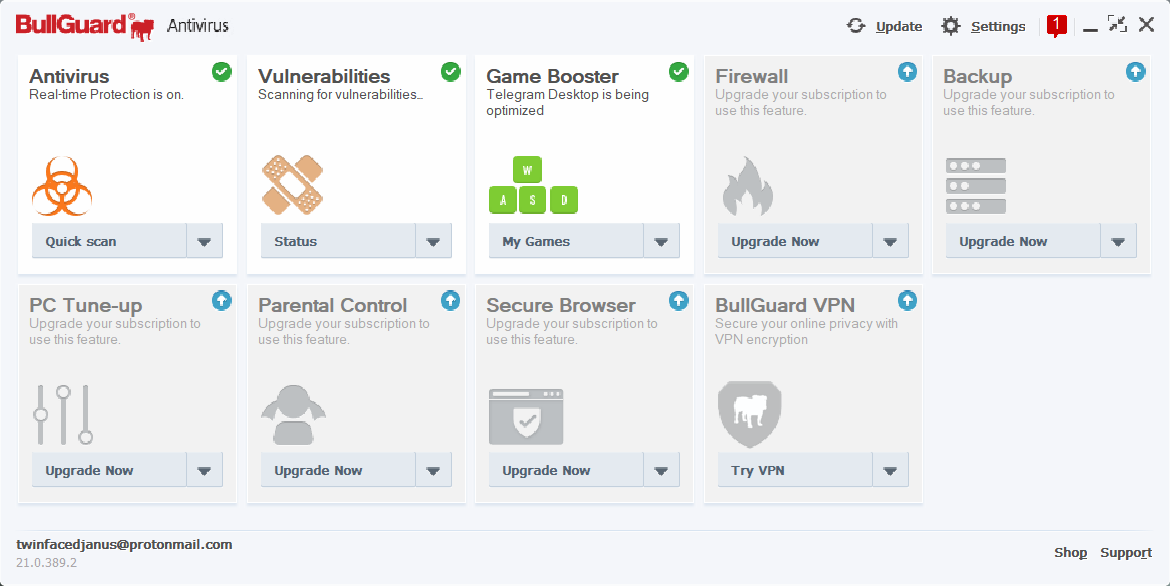 The protection rating of BullGuard is high, at least, our tests show that it is capable of protecting the system even in the case of the most reckless usage. One of BullGuard's products – Online Protection – is even rated by AV-TEST with the highest rating – 6/6/6. And I am sure that their Antivirus uses the same detection databases – and has the same high protection as well.
The prices for BullGuard Antivirus are very pleasant. You can get an annual license for only 30$ – possibly, the lowest price in our rating. Besides that offer, BullGuard as a vendor also provides more expensive and more complex tools – but they have the excessive functions we talked about.
GridinSoft Anti-Malware
While some of BullGuard's products are rated by AV-TEST, this vendor is not rated in such a global rating. Possibly, that is because GridinSoft does not produce any full-fledged solutions, like Norton, Kaspersky or ESET. It is just incorrect to compare the different things. However, GridinSoft Anti-Malware perfectly fits the criterias we set for our rating.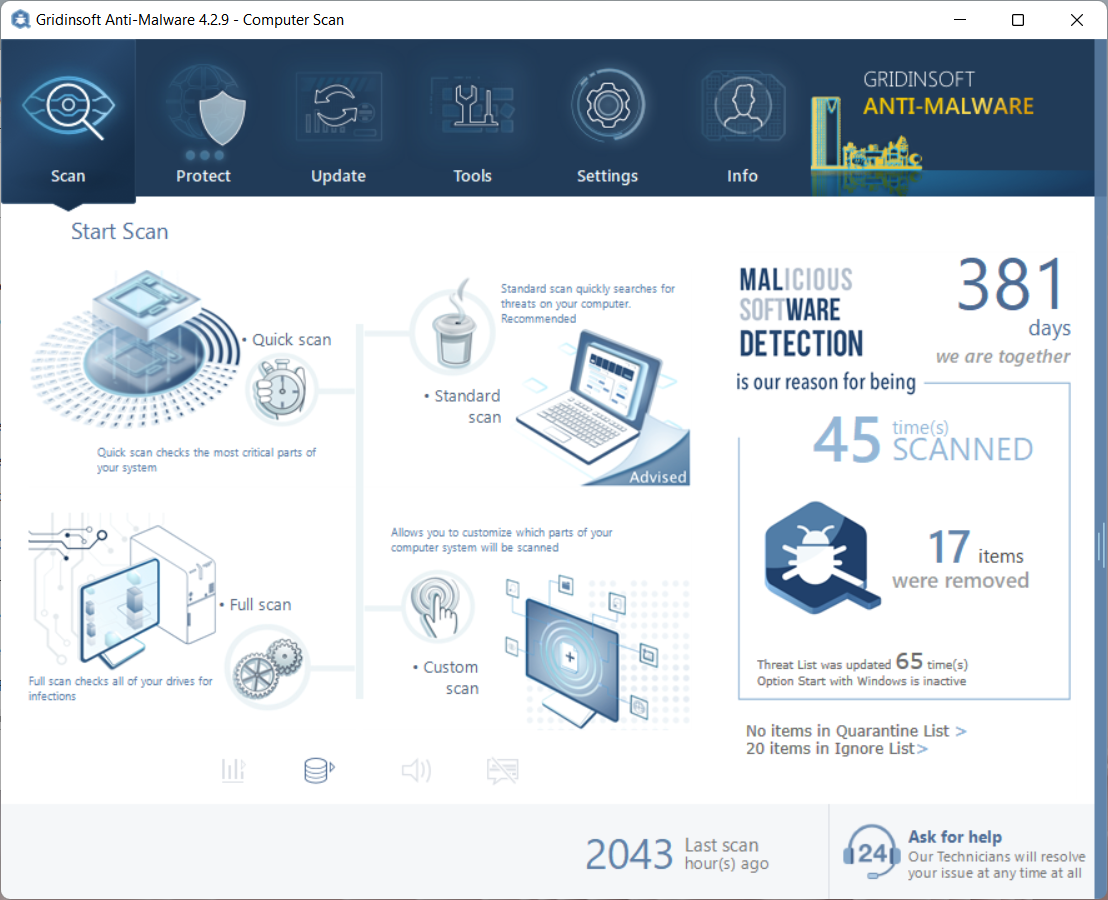 The main characteristic – protection rate – is very good. This tool was tested manually and showed almost the same efficiency as BullGuard Antivirus does. The only thing which is not ideal about GridinSoft's product protection is a bit buggy Online Protection. The majority of time it works well, but sometimes it can block the legit website which does not have a HTTPS certificate. In general, this step isn't something bad: HTTPS cert is like a warranty of data protection. Blocking the HTTP sites is not a very bad practice, but I think users must see just the notification that the site is unsecure. And only in the case when it is confirmedly malicious, the tool is about to block it.
The heuristic engine also does well. In our previous tests of this tool, it had a similar bug as BullGuard Antivirus has, but now it is loyal to such hand-made. Nonetheless, small bugs in heuristic engines and related features are present even in top-rated antiviruses. So do we need to blame anyone for that?
Annual license for GridinSoft Anti-Malware will cost you almost $40. It allows you to use that license on 2 computers. There are also several other types of licenses for this product – generally, the different variations for families.
Norton AntiVirus Plus
One of the most-known vendors offer their own lightweight solution for personal computer security. I will not say once again that it works great, and has all the needed functionality – it is pointless, in my opinion. Norton has a reputation as an excellent vendor, which delivers what it promises. Moreover, they even offer a 100% refund in case their security tool will miss a virus. Nonetheless, it is not ideal though.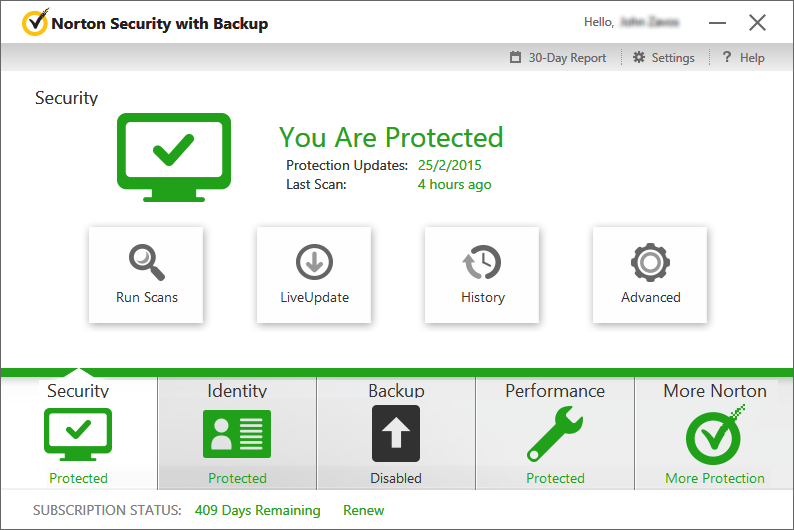 Norton AntiVirus Plus is pretty expensive. In contrast to both of our previous candidates, it costs $60 per annual license. Paying twice as much as BullGuard Antivirus costs must be backed by something. Norton backs it with the Password Security function and 2GB of cloud storage included in the package. In the list of criterias I was criticizing the excessive functions offered by a lot of vendors, and these things are exactly ones. Nonetheless, these ones are among the most demanded ones – at least among all other complementary features. Is it worth paying $20-$30 more for those things? That lays only on your choice.
McAfee AntiVirus
The company of a notorious public person, John McAfee, keeps going even after the death of its creator. Besides the ill fame of Mr. McAfee, the company is also getting covered in mud for their policy of free tool spreading. These days, this campaign is much less active, but just back in 2019, you could get a bundled free McAfee together with the Flash Player, for example, or any other freeware. The free tool they offer has pretty poor security mechanisms, outdated databases and no ability to remove the virus (i.e. it acts only as a scanner). Moreover, it annoys the user with constant notifications and offers to purchase a full version. More like scareware, than a normal antivirus.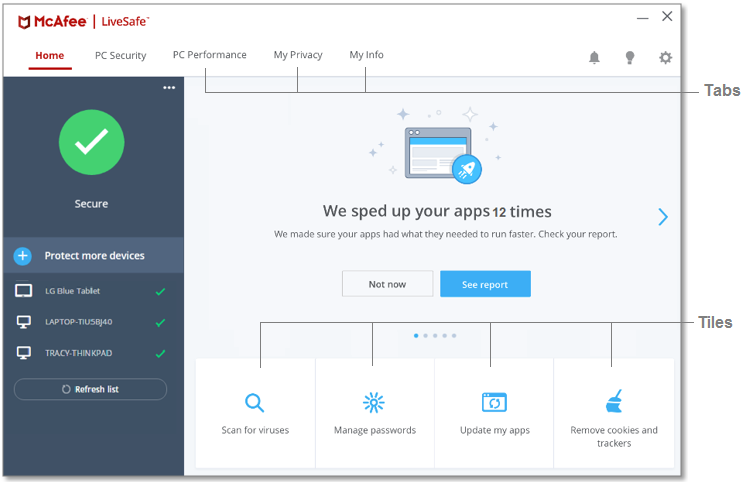 But besides all the unpleasant facts – is it any good about McAfee AntiVirus? Sure, it is a pretty good solution – rated inline with Kaspersky, Malwarebytes and Norton by AV-TEST. And my own short testing showed just the same results – no problems with malware removal as well as background scanning. The only thing which bothered me was a bit of a hysterical online security feature. It triggers almost on everything that may cause suspicion. Once upon a time, it blocked the login page to one of the websites, stating that this page may be phishing. And it is even with an HTTPS certificate! I was not very happy when GridinSoft's product did similar things, but even that little-known vendor did a better job at filtering the false positives.
Pricings on this product are also strange. On the website, you are offered to get their product for just $35 a year. Nonetheless, when you check the EULA, you will likely be surprised to discover that it will cost you $120 per year after the end of the first annual license. Seems that McAfee tries to do their best to make their product as controversial as possible – but why? Sure, all these facts may be just my own bias towards McAfee – but I dislike this company, and not for their products. Check the comparison table and make your own opinion on it.
Malwarebytes Premium
Malwarebytes is also a company that could be seen in the AV-TEST list. Its overall rating for Premium anti-malware tool is 5.5/5.5/6 – a bit lower than for BullGuard's product. Nonetheless, Malwarebytes provides a pretty good product, which has a composition of a good security tool and lightweightness. You can choose the package with VPN, fake geolocation generator and other stuff, but there is a basic package available as well.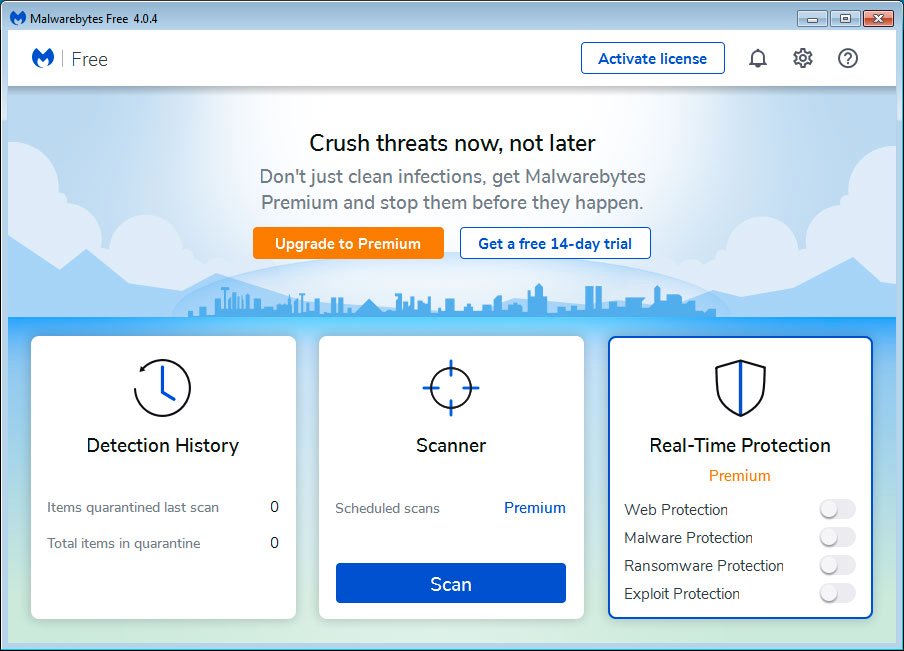 Sounds idealistic, isn't it? But don't haste to bring them your money – their anti-malware program is not ideal, just as others. However, this time we have a problem that is away from security functions – the optimization. You may see a lot of complaints on Malwarebytes antivirus, which say that this tool consumes a lot of CPU and disk resources even while working in the background. This problem is also typical for another famous antivirus – Kaspersky. Fortunately, in contrast to the Russian antivirus, bugs in Malwarebytes that cause such a big load on your PC may easily be fixed.
But is it worth it to buy an unfinished tool? Possibly, if the price is not so high and you are OK with having to deal with problems. The annual license for Malwarebytes Premium costs $3.33/month – $40 per year. Not very high at all, especially when we have a look at McAfee. For this price, you will be able to use this antivirus on only one device.
Summary
All of the mentioned anti-malware solutions are worth your attention, at certain. Possibly, some of them may look not so good for you, but again – I wish you to choose it by yourself. Any advice is useless – each user has his own needs, and there is no versatile antivirus that will fit everyone.
Here is the table of all mentioned antiviruses – with main characteristics and pricings for an annual subscription. Check each and make your choice!
| | | | | | |
| --- | --- | --- | --- | --- | --- |
| Product name | Pricing (1 year) | Number of devices | Database updates | Disadvantages | Additional functions |
| BullGuard | $30 | 1 | Daily | High CPU consumption, online security false detections | None |
| GridinSoft Anti-Malware | $40 | 2 | Hourly | Online security false detections | None |
| Norton AntiVirus | $60 | 2 | Daily | Interface complexity | Cloud storage, Password protection |
| McAfee Antivirus | $35 ($125 after a year) | 5 | Daily | Online security false detections | Password protection, parental control |
| Malwarebytes Premium | $40 | 1 | Daily | Optimization issues | None |