Loaris Trojan Remover Review 2022. How good is Loaris?
Affordable prices: you can purchase the product for less than 30$
Fast and non-demanding for CPU/RAM: could be run on the system with 2 GB RAM and 1.33 GHz processor
Automatic detection base updates: every time after its launch, Loaris automatically connects to the update server
User-friendly interface: it's effortless to find the essential functions.
A lot of false-positive detections: self-made Java applications may be recognized as malicious
The free-trial period is short: you have only three days to check out all features.
Shortage of information about the detected hazard can lead to misrecognizing of risks.
Non-flexible pricings: users are not able to create their variants. All offered packs cannot cover more than 60% of users.
💡 Installation
Loaris Trojan Remover can be downloaded from their website. The installation file is quite small – only 1,4 MB, so, you can download it easily even in case of weak connection or limited data plan. After the installation, you will be offered to launch Trojan Remover immediately. Free mode, which have much less functionality, is not able to delete the malware. You can easily start the free trial at the "Info" page. Trial version has all the functions which the full version does.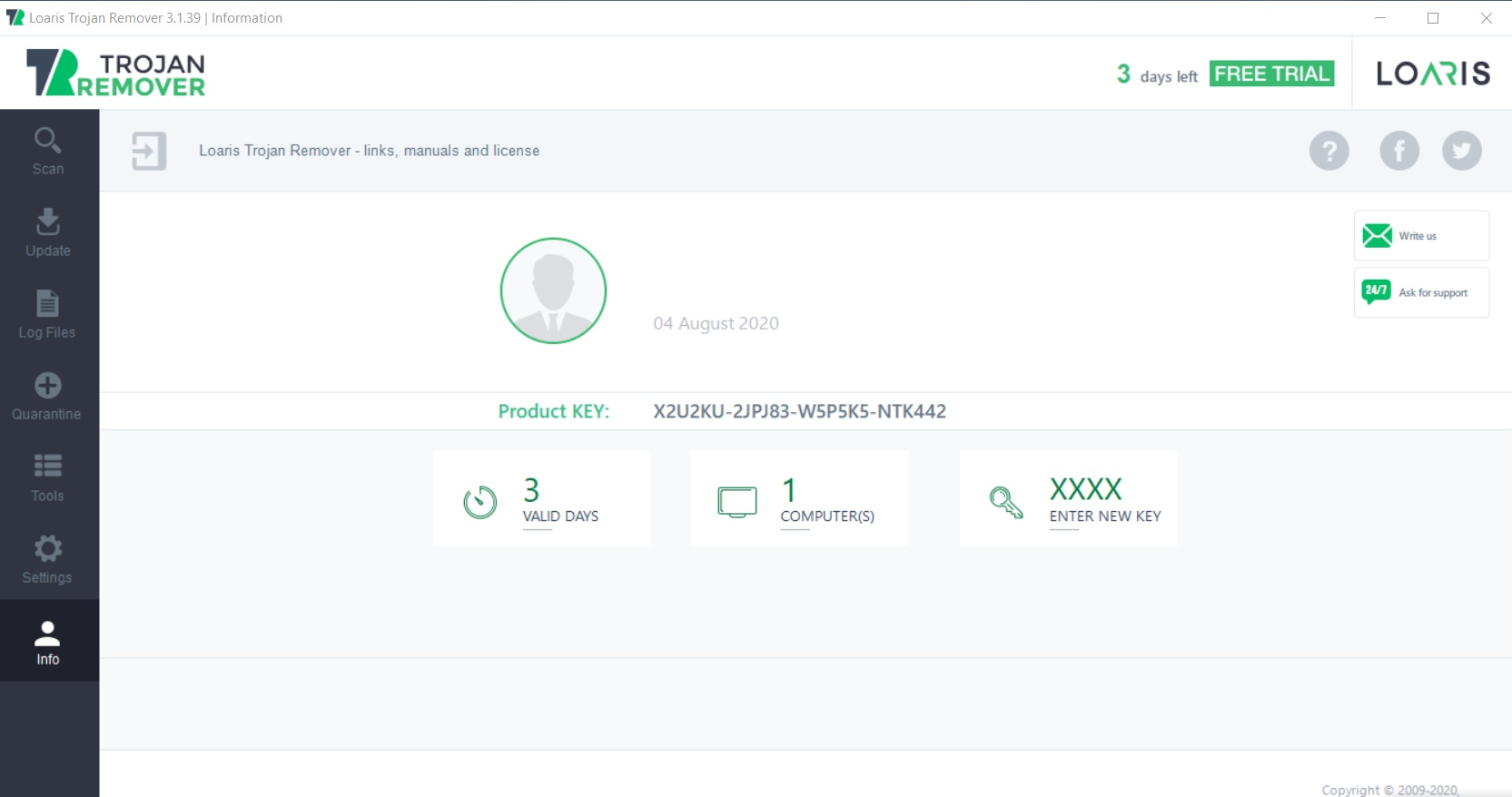 💡 Features & Functions
Loaris is compatible with all Windows versions starting from 7. But there is no Android app – developers decided that the mobile OS is not interesting. The total amount of functions is close to high-end antiviruses. You can perform the four different types of scan: Standart (a quick scan of the folders which are usually infected by different malware), Full (scans all folders on your discs), Custom (scans only specified folders), and Removable (checks your removable disks for malware presence). The last function is quite rare through no-name antimalware vendors.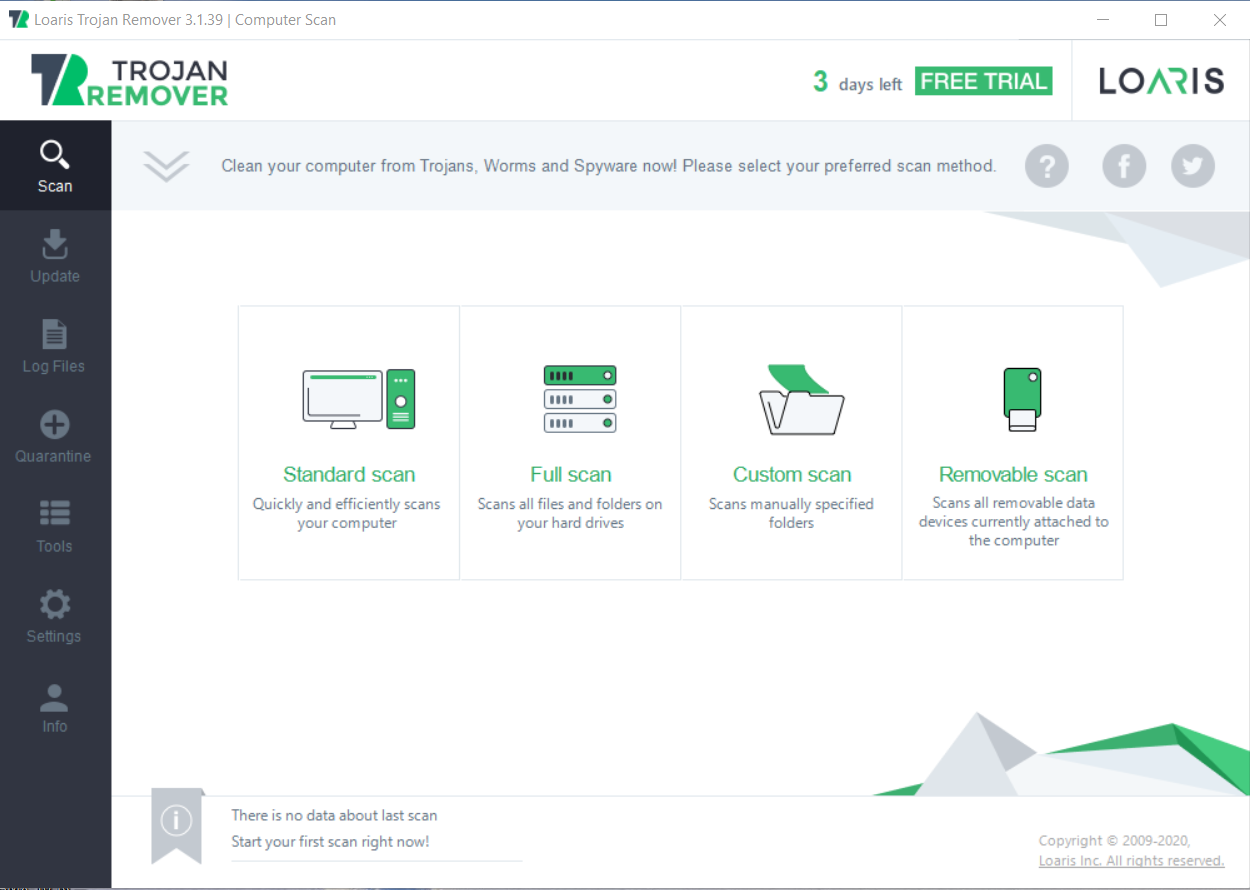 Besides scanning, Loaris adds suspicious files to Quarantine, where you can manage it. This function is handy for the users who operate with different self-made Java applications, which can be detected even by famous antimalware programs as potentially malicious.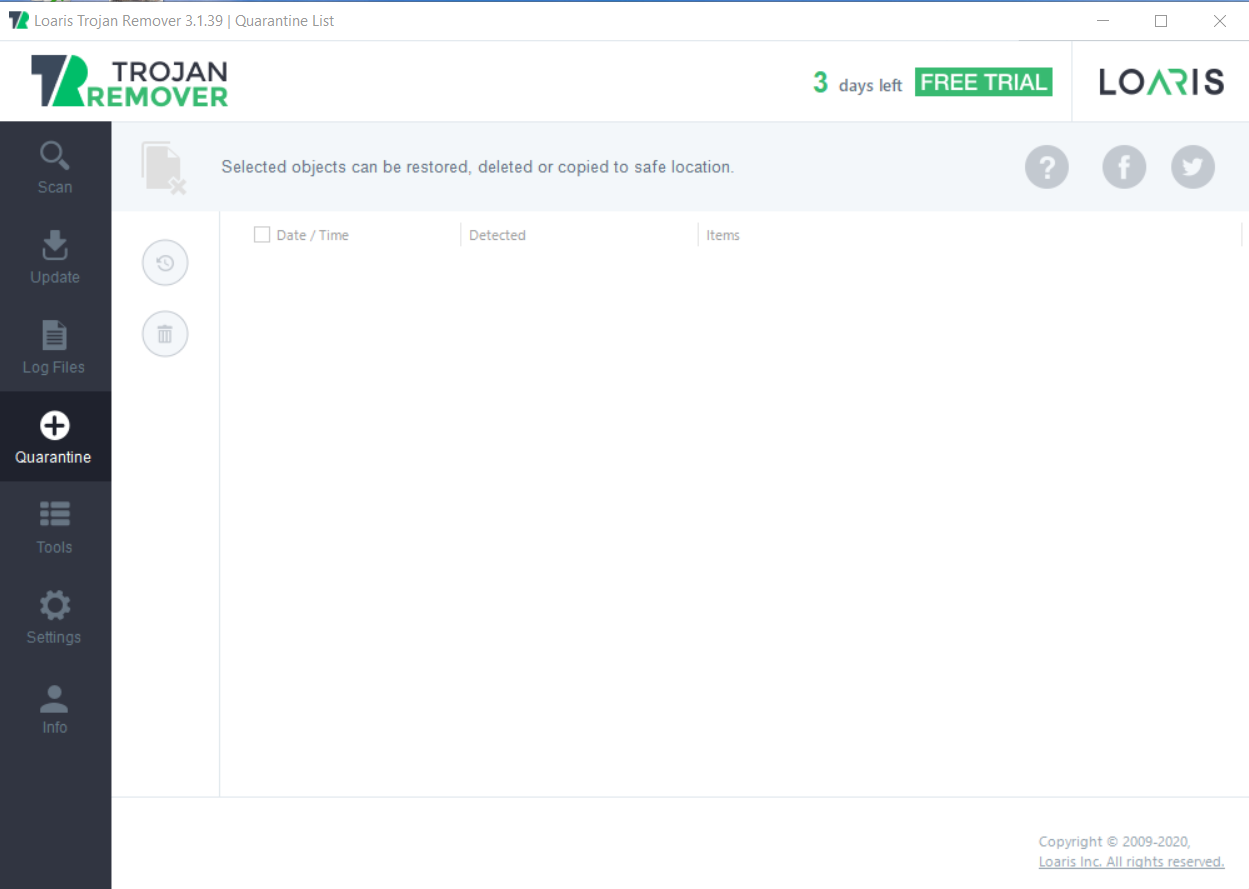 After the scan process is started, you can see all actions performed by Loaris Trojan Remover, including all detections and the folder which is currently checked.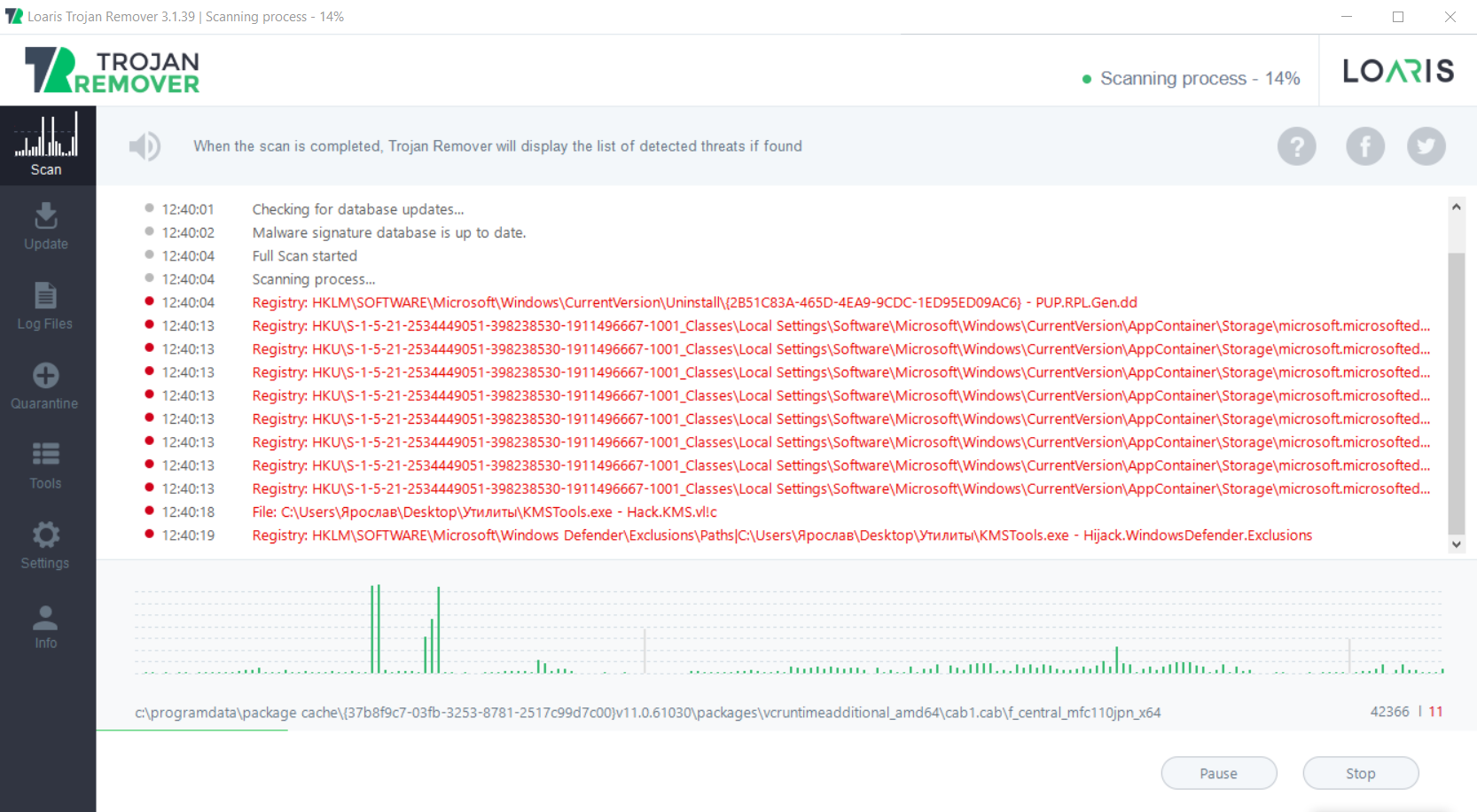 But the information about the detected hazards is too short, in my opinion – it was hard for me to understand what harm can be caused by the different registry key changes. I have already seen a similar problem while using another antimalware software – Zemana. It also reverted several changes to enable a virtual VPN adapter for Cisco VPN. And several exclusions which I have added to Windows Defender were removed, too.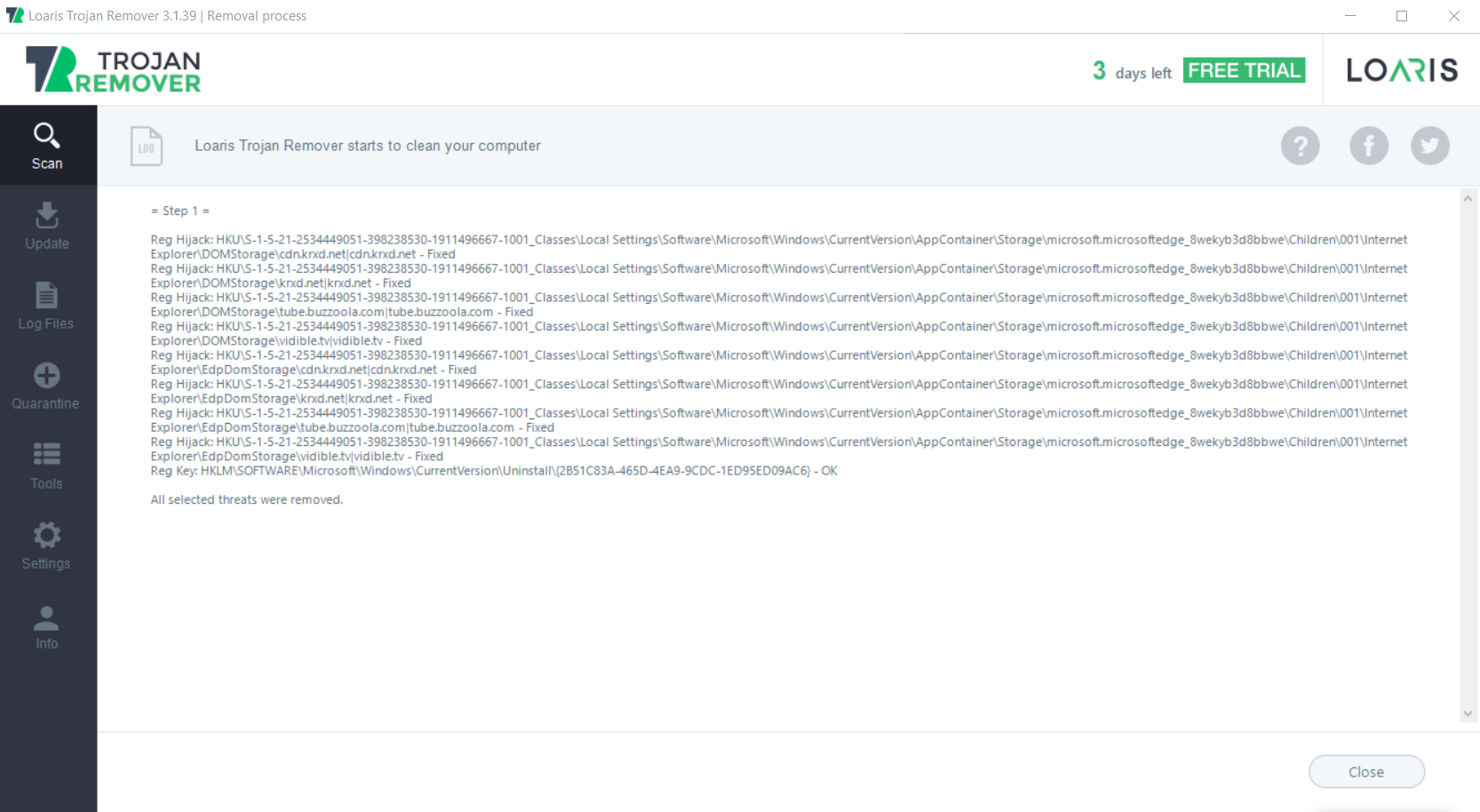 💡 Additional functionality
Loaris Trojan Remover has several functions besides of simple scans. Most such functions are targeted for system recovery after the malware attack. You can reset your browser settings in one click, which is essential after an adware or browser hijacker attack. It can also be useful for resetting your browser settings if you have changed several settings and can't revert them for some reason.
Another function is Reset Windows HOSTS file. This file contains information about priority DNS addresses for specified sites. Trojans, ransomware, and several other types of malware can add their entries to your HOSTS file. Such entries may prevent your access to the sites of antimalware vendors or antimalware forums. Another variant is adding the false DNS address of some popular websites, for example, Facebook or Twitter. After the connection through such a DNS server, you will see the clone of mentioned site, where you will be offered to enter your login and password.
One more feature which is required after the ransomware attack is Windows Update Policy reset. Ransomware, especially WannaCry and STOP families, change your update policy to prevent the changes implemented by ransomware from being wiped out by the update. Such changes are usually implemented in the registry and through several system files. Windows Update Policy reset button will revert all the changes implemented by malware to the values set by the user before the attack.
💡 Online support
Loaris Trojan Remover has a well-structured support page on their website. There is an easy-to-navigate FAQ page, which can explain to beginners how to deal with the problems. Besides the information on the website, you can ask a question to their operators (but when I tried to do so, I have waited for 5 minutes with no answer). Loaris has an embedded function of collecting system information to make support's work much easier. This button is located in the same tab with additional functions. After pressing it, the log containing information about your system and the last actions of Loaris will be created.
💡 Price
There are 4 different plans, which can be more flexible in my opinion, but for someone's needs such packagings be completely suitable.
Single – 28.65$ per one year, for 1 device;
Family – 39.95 per one year, for two devices;
Corporate – 39.95 per one year, for one device, additional preferences in service;
Agency – 99.95$ per one month, unlimited number of devices, additional preferences in service.