GridinSoft Anti-Malware ☀️ Review 2021 – Features & Price Comparison
GridinSoft Anti-Malware is a flagman product of GridinSoft LLC established in 2003 and headquartered in Ukraine.
Windows XP/Vista/7/8/10, Android
$39.95 - 1 year/2 devices
The product provides Reset browser settings function – the app that delivers to user an ability to reconfigure his browser settings to the default parameters.
The Removable Devices Protection feature, which allows user to forget about malware injection through USB.
There is a full kit of a scan types that provides to user an ability to have a protection he needs – Quick, Full, Removable or Custom scan.
Trial mode, that has the same functions as full version does, is avaliable after simple registration.
GridinSoft Anti-Malware can only be run on Windows or Android OS.
Demo version of the GridinSoft Anti-Malware doesn't provide the option "remove malware threats". To wipe out infected files, activation with a minimal price of $30 is required.
GridinSoft Anti-Malware's real-time protection is set to the off mode by default. It could be launched in several clicks in Settings.
The autopilot option, like a majority of antimalware perform, should be set by the user.
The core GridinSoft Anti-Malware function is scheduled elimination of all bots, spy-scareware, keyloggers, trojans, and plenty of other threats, that could be met nowadays. The regular, as experts note, antimalware product laboratory test score – near 75 percent of the deeply contaminated files. This is the first attempt score and nearly similar to the Microsoft Windows Defender results.
👉🏻 Installation
GridinSoft Anti-Malware could be used with a demo mode or free trial period. To get a free trial of GridinSoft Anti-Malware on the system, the user needs to register his account, then download it, install and login, and then choose a free-trial start. To become the GridinSoft Anti-Malware customer, the user can purchase a 6-month, 1-year, or Lifetime license. After a specified number of devices and subscription plans, the license will be delivered via e-mail. To activate the service, he should enter a personal activation code from the letter in the appropriate field – space applying the "have a code" tab. Then, the GridinSoft Anti-Malware online activation finished. The main difference between demo mode and trial that in demo mode, you can only detect threats; to delete them, you need to get a license key.
👉🏻 GridinSoft Anti-Malware key functions&features:
GridinSoft Anti-Malware is quite a flexible program, and not only because of a variety of its functions. If we are talking about compatibility – it could be run on all Windows versions starting from XP. Also, there is an Android app, that could be used under the same license that PC version does. Coming back to PC edition: it has 4 scan types, that allows user to choose what he wants, and a big bulk of useful functions that are available instantly after installing. Every user can find all functions he needs, without additional downloading or so.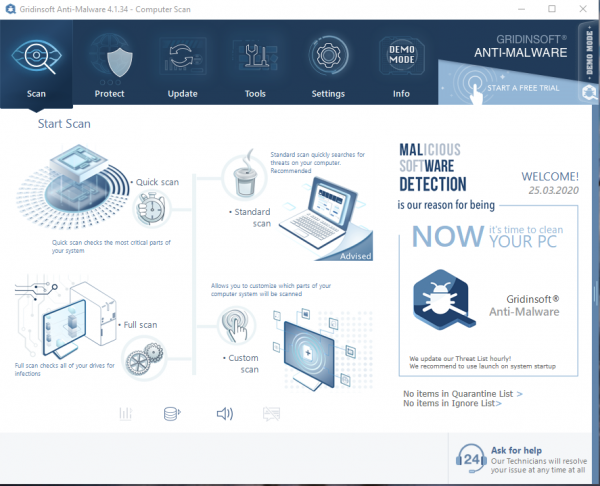 👉🏻 Scan procedure features
GridinSoft Anti-Malware provides 4 scan types: Quick scan — monitors the key system components; Full scan – scans hard disks for hazards, took 24 minutes. Removable scan: searching threats on the removable disks and USB carriers. Custom scan: checks defined folders, took near 1 minute – external hard drives, services, extensions, and startups.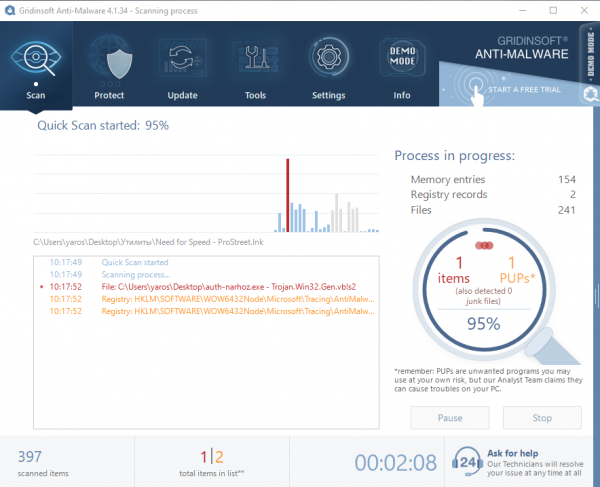 The product classifies the detected contaminated files by the severity level due to probable harm it could deliver to the machine. 2 scenarios are prescribed to proceed with the contaminated files: — "Ignore" & "Quarantine" –. The user can select a preferable algorithm and press "Apply". He can also turn the program enabling the autopilot function – an automatic scan for hazardous signatures spotted on the computer. Log details will depict the name, type, and each infected item targeted file path.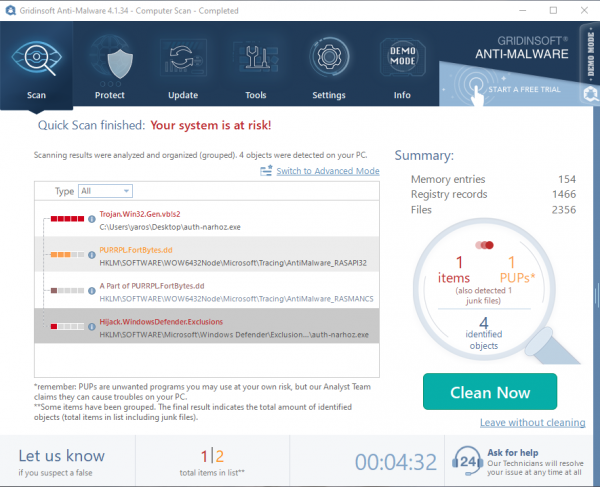 A final report will be autosaved to a structured and simple text document.
👉🏻 Pleasant additions
The next product core feature is Reset Browser Settings function. It delivers to the user the ability to reconfigure his browser settings to the default parameters. Such a procedure enables the "undo any changes" malware has made to the computer. One more such a service component – automatically fix a Windows configuration after a malware attack.
One more valuable option – Removable devices Protection, that curbs any attempt to contaminate the computer by frequently used USB carriers. I switched on, each removable device – flash drives, memory sticks, etc. plugged in the system will be auto-scanned.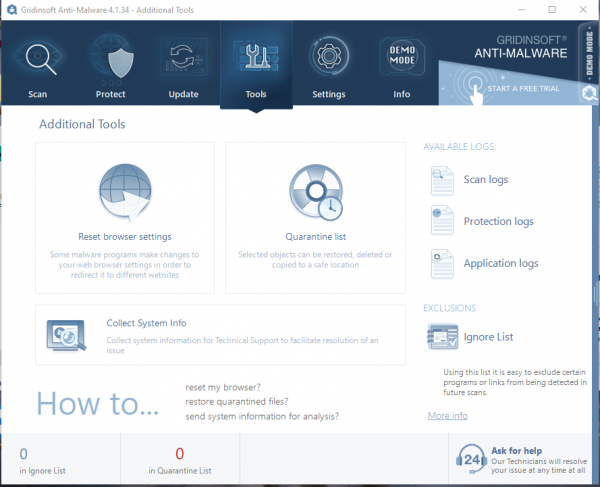 Read also: Emsisoft Anti-Malware Review 2021
👉🏻 GridinSoft Anti-Malware 4 Real-time scanner
Probably, the most significant product component is a real-time scanner. The service protects from a wide range of e-threats that can reach the computer through the internet. GridinSoft Anti-Malware extra-instruments delivers browser settings reset, updating policies and scan Windows components as follows: ActiveX, Windows services, IE extensions, startup links, and quarantine list. Also, a Real-Time scanner provides online protection for user personal passwords, credit card digits, and passwords, etc.
NB: GridinSoft Anti-Malware's real-time protection by default is set to the "off mode". Therefore, this option is recommended to be switched on, and this action is offered immediately after the activation program launch. After one-time activation, the autopilot will be able to intercept all hazards on the PC with simultaneous alerts if a potentially dangerous site entry is identified.
👉🏻 Customer tech support:
GridinSoft Anti-Malware 4 projects multilingual client retention. The support is deliverable 24/7 for free. And if a user wants to receive a high–quality technical support and consultation, he should make a structured request – a system information file via online ticket sending. If some hazardous files and technically multifaceted tasks are identified during antimalware monitoring, the GridinSoft Anti-Malware 4 team will distantly study the item and deliver all relevant updates. If the aggregated information indicates an untypical malware case, the GridinSoft Anti-Malware tech support agents can organize an online meeting. It would help to solve the problem and update the virus database.
👉🏻 Packages pricing
User has the ability to test the software within the 6 day trial period. Further, GridinSoft Anti-Malware pricing scheme will propose to purchase a license, that starts at $29.95. The price will grow according to the number of PCs and the subscription length. For a user who decided to prolong a license, 15% discount is offered.

| | | | |
| --- | --- | --- | --- |
| GridinSoft Anti-Malware pricing | | | |
| Plan | Type | Price | Devices |
| First 6-day | Free Trial | $0.00 | unlimited |
| 6-months | Subscription | $29.95 | 2 |
| 1-year | Subscription | $39.95 | 2 |
| Lifetime | License | $89.95 | 2 |