German laboratory AV-Test selected 8 best antiviruses for Windows 10
The German laboratory AV-Test tested 22 complex antivirus solutions for Windows 10. As a result, 16 antiviruses received the TOP PRODUCT awards, 8 of which scored the maximum points and were named by AV-Test experts as the best antiviruses for Windows 10.
There are many different products for Windows 10 on the market. The German AV-Test laboratory once again wondered which antivirus copes best with protecting Windows 10 devices and tested 22 comprehensive antivirus solutions for Windows 10. As a result, 16 antiviruses received the TOP PRODUCT ".
This time rating was full of surprises.
In July-August 2020, the AV-Test laboratory tested 22 security programs for Windows 10.
As usual, the laboratory experts were interested in security effectiveness, performance and usability, i.e. false alarm rate.
"This round of testing is distinguished by an abundance of TOP PRODUCT ratings. The award will be granted only if the security product scores more than 17.5 points in testing", – told in AV-Test.
In this test session, more than two thirds of the selected products received this rating from the laboratory.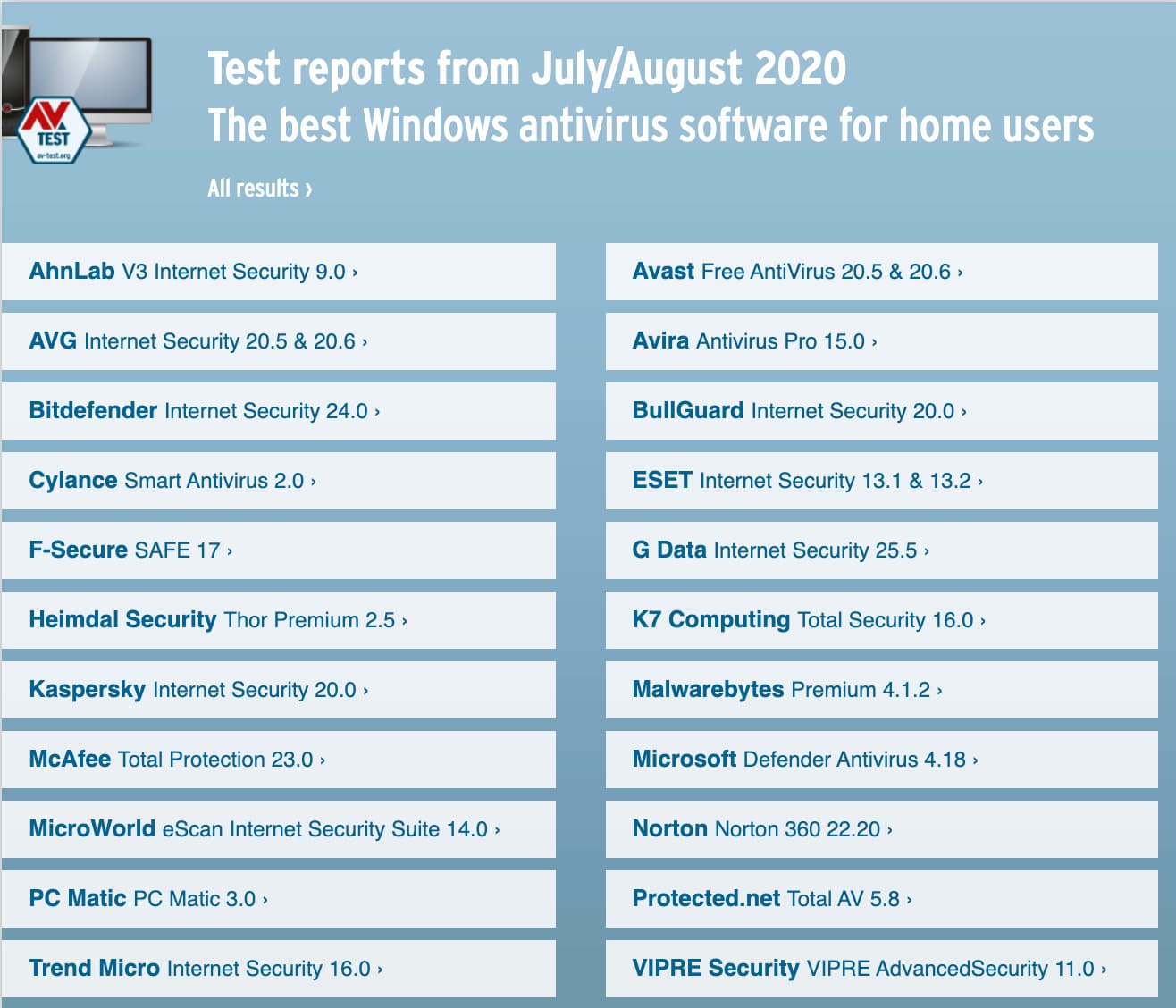 The remaining 6 security solutions were able to score from 12 to 16.5 points. The testing involved Internet Security products and free antiviruses from AhnLab, Avast, AVG, Avira, Bitdefender, BullGuard, Cylance, ESET, F-Secure, G Data, Heimdal Security, K7 Computing, Kaspersky, Malwarebytes, McAfee, Microsoft, Microworld, NortonLifeLock, PC Matic, Protected.net, Trend Micro and VIPRE Security.
The best antiviruses were named "TOP PRODUCT"
When users talk about antivirus protection for Windows, they no longer have the questions "Do you need antivirus?". Instead, they are seek to know "Which antivirus offers the best protection?" The laboratory evaluates products for protection, performance and usability.
In each rating category, a product can receive up to 6 points. In this round of testing, 8 products were able to earn the maximum 18 points: these are solutions from AhnLab, Avira, F-Secure, G Data, Kaspersky, McAfee, Microsoft and NortonLifeLock.
Avast Free AntiVirus, AVG Internet Security, Bitdefender Internet Security, BullGuard Internet Security, ESET NOD32 Internet Security, Protected.net Total AV, Trend Micro Internet Security and VIPRE Advanced Security received 17.5 points.
All antiviruses that scored 17.5 or 18 points received not only the "Certified Security" rating, but also the "TOP PRODUCT" award.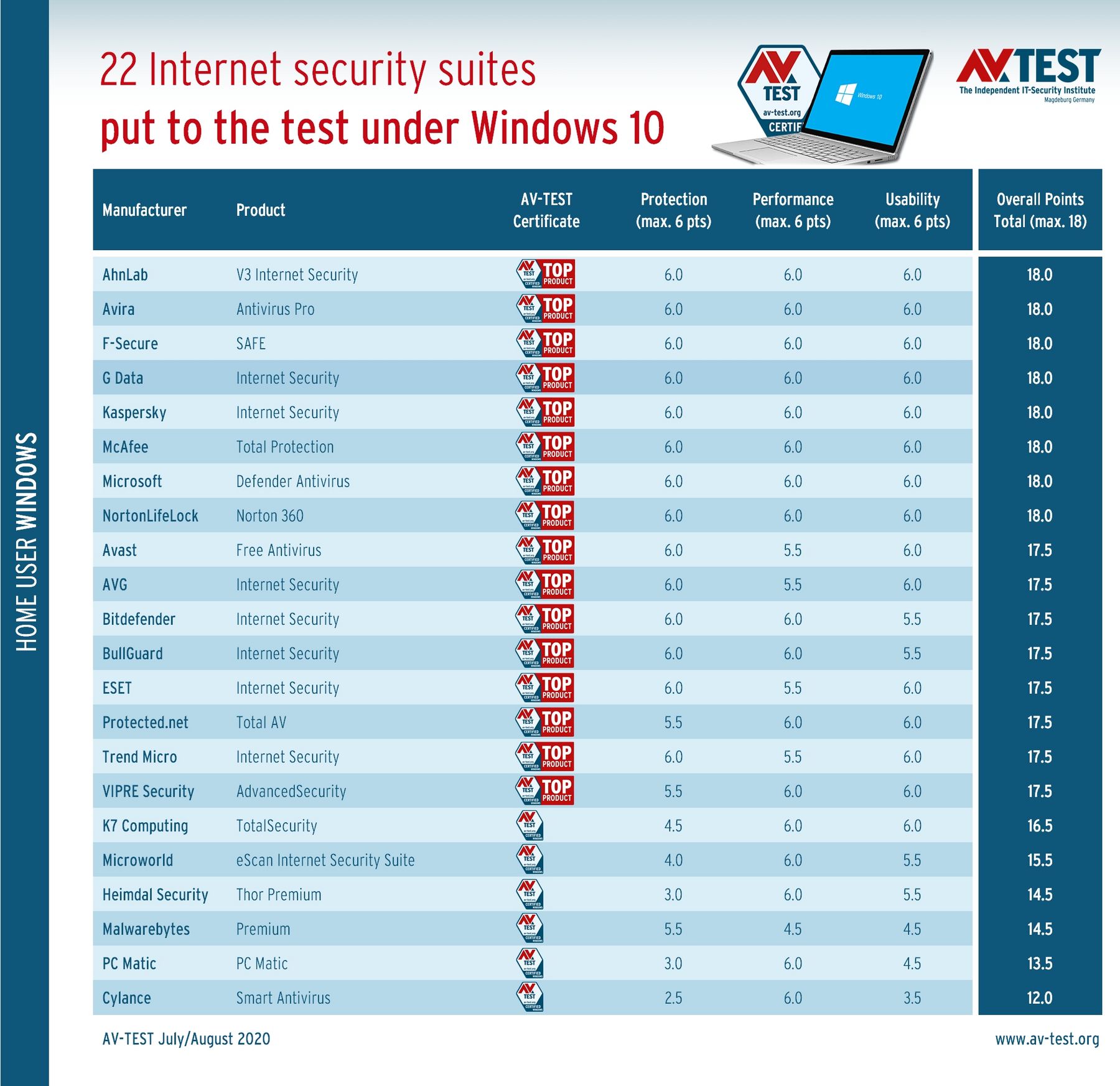 Antivirus for Windows 10: Products with a score of 17.5 to 18 are awarded the TOP PRODUCT title. This time, 16 out of 22 test participants received the award.
Prevented more than 14,000 attacks
The lab uses the latest high-risk malware samples to test the defence of each product. To obtain the most relevant results, testing is repeated a month later. In a so-called real-world test, the lab uses zero-day threats collected from websites and email.
In a test involving known malware, AV-Test collects a compilation of web threats detected over the past two weeks. In total, the tested antiviruses need to counteract approximately 14,000 threats.
The pivot table lists the detection rates for each product. Products from Avast, AVG, Avira, Bitdefender, BullGuard, ESET, F-Secure, G Data, Kaspersky, McAfee, Microsoft, NortonLifeLock and Trend Micro have achieved 100% threat recognition. Solutions from AhnLab and Protected.net made small mistakes in only one of the four test segments.
The rest of the products failed to block attacks in one or two tests. Cylance and Heimdal Security are having serious problems detecting malware samples.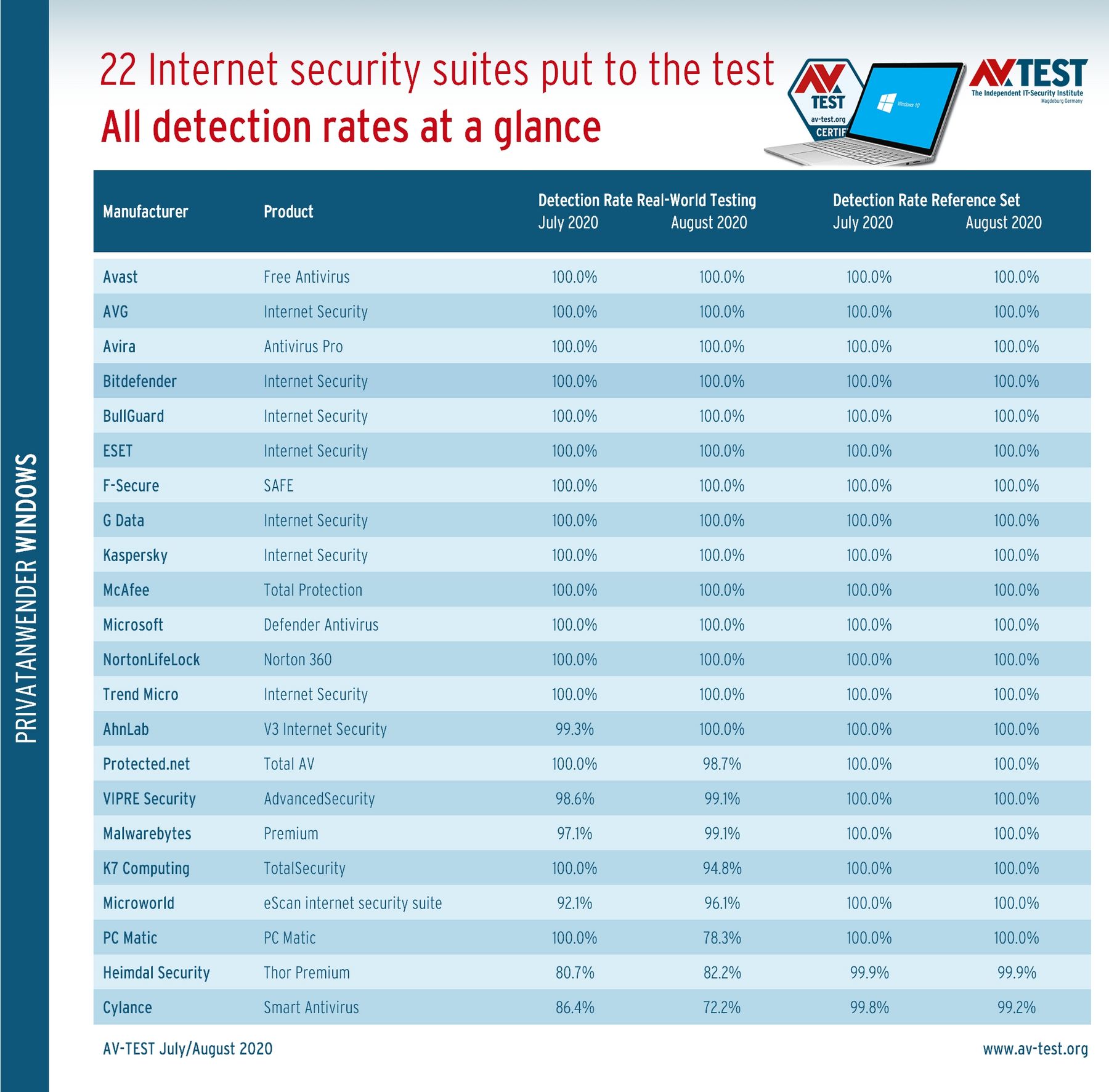 Anti-malware protection: Each tester was required to discover, quarantine, or remove over 14,000 malware samples. 8 products managed to recognize 100% of test threats.
No PC slowdown
In recent years, the increased load on the system from antivirus products has become a constant source of irritation for testers. During testing, the lab performs many of the standard operations on the reference device: downloading websites, downloading files, installing and running software, and copying data.
The time it takes to complete these steps is set as a guideline for systems with installed products. If any excessive delay is registered, the product will lose points.
In the latest rounds of testing, laboratory experts have recorded a noticeable improvement in performance. This time, 21 out of 22 tested products either did not slow down the system at all or had a minor impact on performance. As a result, 17 products received the maximum 6 points in this test, and another 4 – 5.5 points each. Malwarebytes alone received only 4.5 points due to the excessive load on the system.
G Data Internet Security: Comprehensive antivirus performed well in the current test, received 18 points and the title "TOP PRODUCT".
F-Secure SAFE: The antivirus completed all testing phases without errors, earned a total of 18 points and was awarded a "TOP PRODUCT" rating.
NortonLifeLock Norton 360: Famous Norton 360 Antivirus scored 18 points and received the "TOP PRODUCT" award.
Kaspersky Internet Security: Comprehensive antivirus earned 6 points in each of the three test categories, which means it scored 18 points in total and received the title "TOP PRODUCT".
McAfee Total Protection: In this test, this antivirus performed best in all test categories and was awarded the "TOP PRODUCT" rating.
AVIRA Antivirus Pro: Due to its high reliability in all categories, the product received 18 points and the title "TOP PRODUCT" in testing.
False alarm
Antivirus products periodically identify harmless applications as dangerous threats. Such situations annoy users and cause additional complications. Locking an important work tool can cause panic among users.
During this test, laboratory experts visited 500 secure websites, installed and run more than 60 popular programs with installed protection. In addition, each test taker has to scan over 1 million harmless files. Ideally, the product will not generate a single false positive.
This result guarantees trouble-free use in the future.
Based on the test results, 15 out of 22 products made a small number of false positives and received a maximum of 6 points. Solutions from Bitdefender, BullGuard, Heimdal Security and Microworld made mistakes a little more often and received 5.5 points.
Malwarebytes and PC Matic products marked a relatively large number of safe programs as malware and got only 4.5 points. Cylance has the worst score – only 3.5 points due to frequent false positives.
It is noteworthy that even the built-in antivirus Windows 10 (Microsoft Defender) received a maximum of 18 points as a result of testing. On the other hand, if you look at the testing history for the last year, then this result can be considered the exception rather than the rule.
Many antiviruses not only provide reliable protection, but also offer useful additional tools. When comparing solutions with equal scores, it is helpful to look at their functional set.
And also check out our antivirus comparisons and check what bugs contains your chosen product.