Released the new versions of BullGuard antivirus software
If there was only one rule in the field of cybersecurity, then it could be formulated as following: "You cannot stand in one place".
Cybercriminals and hackers are constantly identifying and exploiting new vulnerabilities, using the latest technology in their attacks, and taking advantage of current trends such as the recent massive shift to remote work.
BullGuard antivirus software claims to fully understand this dynamic and be one step ahead of cybercriminals. And these are the key ingredients in BullGuard's award-winning protection.
This approach appears to have been applied in BullGuard 2021 as well.
"Moving to BullGuard Antivirus, BullGuard Internet Security and Bullguard Premium Protection will provide unrivalled multi-layered detection for maximum cyber protection", – say the developers.
Dynamic machine learning
Dynamic Machine Learning is a core component of BullGuard Internet Security 2021. It builds on existing machine learning technology in Internet Security 2020 and automatically analyses a large number of threats in real time, which in turn improves malware detection, protecting clients from emerging threats.
Unlike most of these solutions, BullGuard dynamic machine learning does not rely solely on the connection to the cloud infrastructure, but constantly monitors all processes on the user's device, ensuring the detection and blocking of malicious behaviour in real time. The malware cannot harm the system even if it tries to interrupt the Internet connection.
Analysis using dynamic machine learning is designed to identify the "obfuscation" methods used by hackers to hide malware. This technique makes it possible to detect hidden malware with a delayed payload. Many malicious programs infect the system, but initially show no signs of activity. BullGuard's dynamic machine learning helps protect against these types of threats.
Dynamic Machine Learning Protection continually scans the entire BullGuard customer base for new emerging threats. If, for example, a new sample of ransomware is detected, the information is immediately transmitted to all other protected devices to ensure client security.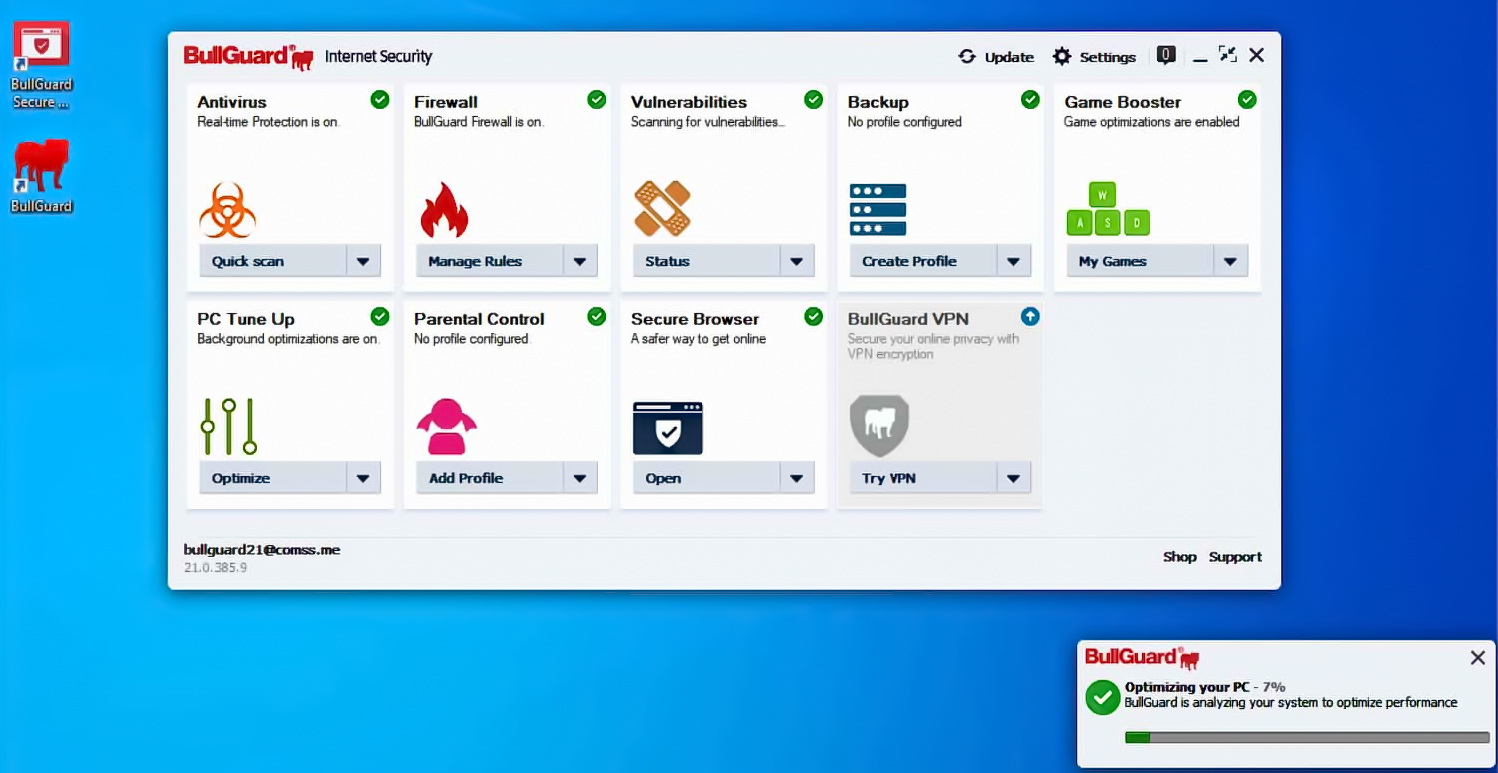 Multilevel protection
BullGuard 2021 provides users with six levels of protection – Dynamic Machine Learning, Web Antivirus (Safe Browsing), Sentry Protection, On-Access AV Engine, Firewall and Vulnerability Scanner. All components work together to protect devices from malware without the need for user interaction.
Six layers work in tandem to create a security buffer between the Internet and every BullGuard 2021 device. This buffer is used to detect incoming and local malware, any erroneous outgoing Internet messages, phishing attacks, and other threats.
BullGuard 2021 provides the ultimate cyber defence in a world where malware replicates faster than any known target, with more than 350,000 new malware samples emerging daily, according to the AV-Test Institute.

More options for gamers
BullGuard 2021 includes new gaming features so gamers can enjoy top-notch protection while doing what they love.
The award-winning Game Booster has been optimized to work with online games that have anti-cheating engines. Now gamers will be able to demonstrate their skills and experience without losing points to those who use cheats.
Game Booster has also been improved so that video streaming apps don't experience performance issues due to other running apps. Gamers can now stream their games, showcase their skills and share their knowledge and discoveries without the hassle of slow streaming.
New versions of BullGuard Antivirus 2021 delivers powerful, effective, and comprehensive cyber defence. It is worth considering this solution as an alternative.
But I also advise you to read various comparisons of antiviruses on our website, as well as, for example, information about various bugs in antivirus software.