Apple Introduces Lockdown Mode to Protect against Spying
Apple has announced that iOS 16, iPadOS 16, and macOS Ventura will possess a new security feature called Lockdown Mode. This "extreme, extra protection" is intended for users who are most at risk of targeted spyware attacks: human rights activists, journalists, dissidents, and so on.
Let me remind you that we also talked about The New AI system thatDot Novelty Detector Speeds Up Detecting of Malicious Activity.
The developers promise that the Lockdown mode will protect users' connections while they are messaging and browsing the web by blocking spyware (like NSO Group's Pegasus spyware) that government hackers routinely use against Apple device owners.
Attempts by attackers to compromise the gadget using 0-click exploits (usually aimed at instant messengers or web browsers) will be automatically stopped, as all potentially dangerous features, such as link previews, will be disabled.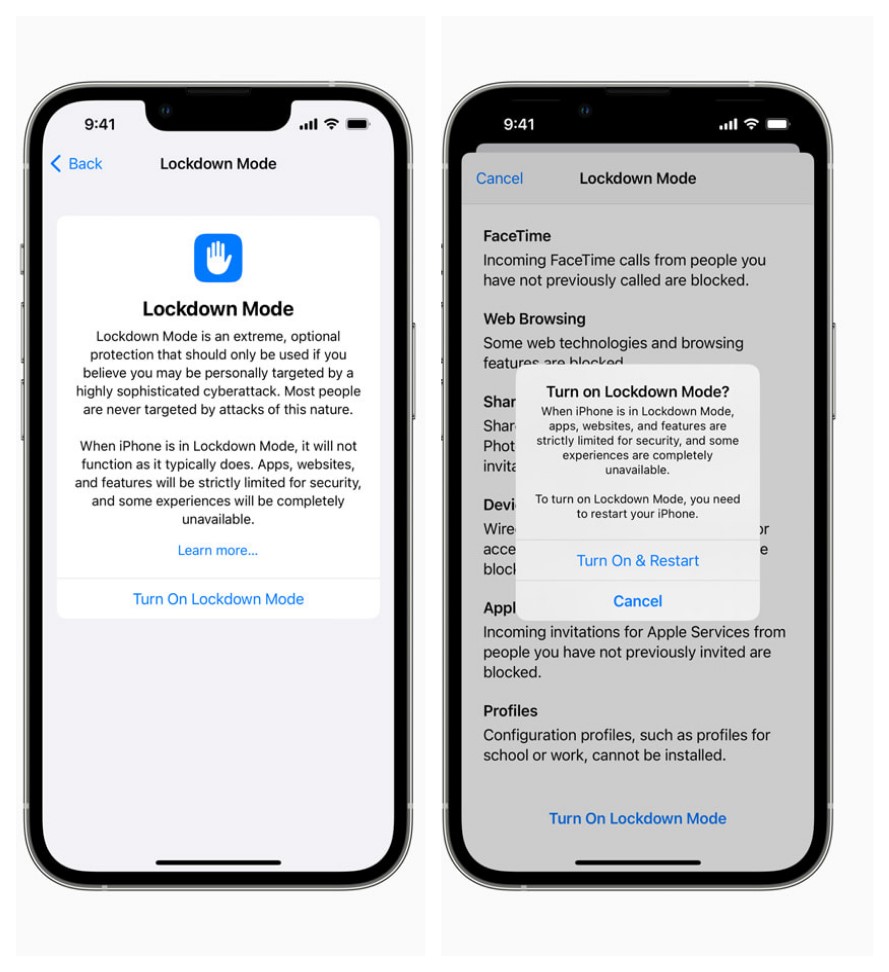 Enabling Lockdown mode in iOS 16, iPadOS 16, and macOS Ventura will further enhance device security and severely limit certain features, dramatically reducing the attack surface that could be exploited by targeted spyware.
Apple wrote.
The first version of Lockdown Mode will include the following protection mechanisms.
Messages: Most types of attachments (except images) will be blocked, and some features will also be disabled, including link previews.
Browsing: Disables some web technologies such as JavaScript JIT compilation unless the user unblocks the trusted site.
Apple services: Incoming invitations and service requests, including FaceTime calls, are blocked if the user has not previously sent them to the call or requester.
Wired connections to your computer and accessories are blocked when iPhone is locked.
Configuration profiles (can be used to download third-party apps that bypass the App Store) cannot be installed and the device cannot enroll in MDM while Lockdown is active.
Also, to encourage feedback and collaboration from the security research community, Apple has created a new category under the Apple Security Bounty program to reward researchers who discover ways to bypass Lockdown Mode and help improve its protection. Rewards for eligible challenges in Lockdown mode are doubled to a maximum of $2,000,000, the highest maximum payout in the industry.
the company added.
Citizen Lab expert John Scott-Railton, who has advised and studied the NSO Group's spyware victims, writes that Lockdown mode is one of the first sufficiently effective protection methods for vulnerable users that they can follow without turning off their devices completely.
Developers of large platforms and operating systems have a certain psychological barrier associated with the introduction of functions to increase the level of security. A lot of the inevitable doubts are related to the [possible] deterioration in the user experience (especially compared to competitors!), Broken features, the fact that more resources will be needed for customer support, and so on. Large companies can *slowly* implement enhanced security features. However, as they dive into all of this, it often comes to the realization that some of these features can be implemented across their entire user base.
says Scott-Railton.