Windows Defender creates thousands of files in Windows 10 due to bug
If you use the Windows 10 operating system together with the built-in Microsoft Defender antivirus, you may encounter a bug that creates thousands of service files.
On affected devices, Microsoft Defender places thousands of files in the directory: C:\ProgramData\Microsoft\Windows Defender\Scans\History\Store
For example, on a test system running Windows 10, version 20H2, there were more than 10,800 objects in this folder. Other users report that in just 24 hours, Microsoft Defender created over 950,000 files, taking up over 30 gigabytes of disk space. Most files are small: 1 or 2 kilobytes.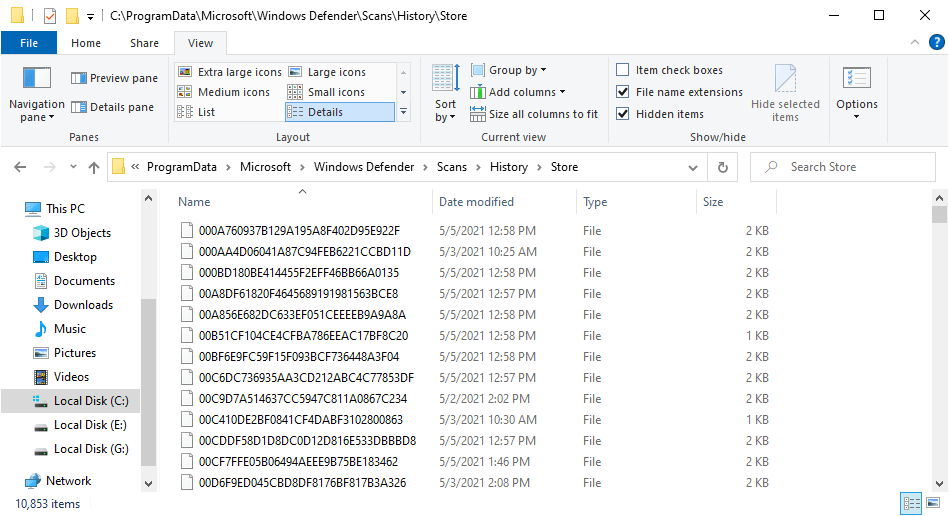 The error can affect certain operations, such as sync or backup jobs. As a result, these operations take much longer, and the free space on the disk is quickly filled with service files.
In the Q&A section of the Microsoft official website, several users and system administrators have discussed this issue.
The issue is reported to be affecting a wide range of Windows versions, not just Windows 10. Users are experiencing the issue on Windows Server 2021 R2, Windows Server 2016 and 2019, and Windows 10.
Bleeping Computer journalists explain.
The error appears to be related to Microsoft Defender and therefore affects all versions of Windows with this antivirus program. In other words, it doesn't depend on the operating system, but on the version of Windows Defender.
The error is observed in Microsoft Defender with the subsystem version 1.1.18100.5, and has been fixed in the next version 1.1.18100.6. To check your Windows Defender version in Windows 10, go to Settings -> Update & Security -> Windows Security -> Open Windows Security -> Settings -> About. Microsoft may release a revised version today, May 6th.
Currently available workarounds include deleting all files in the folder: C:\ProgramData\Microsoft\Windows Defender\Scans\History\Store
Please note that new files will be added to the folder by the antivirus until the problem is fixed by an update. Some users reported that disabling real-time protection also pauses file generation.
You will need administrator rights to open the file folder. Also be aware that some files in the folder may be hidden.
Let me remind you that I also wrote that Attackers can use Microsoft Defender to download viruses and malware.