Zemana Anti-Malware Review 2022
Zemana is one of the cheapest AV software. But is it worth your attention and your money? Let's check this out and find out if Turks are good at anti-malware.
Windows XP, Vista, 7, 8/8.1, 10
From 41$ up to 83$, depends on subscription term
Although the scans are multifaceted and rigorous, Zemana AntiMalware doesn't consume a significant RAM size; therefore, memory-consuming programs can run on the computer simultaneously.
Zemana AntiMalware, as noted by the specialists, can be useful for even old computers.
It can be used with at least all Windows editions, even Windows XP.
The program is very cheap. For a low price, the user obtains real-time protection for a PC and their mobile device.
Real-time protection isn't included in the free version.
Zemana AntiMalware doesn't support Linux and Mac. As of today, Mac and iOS users can't see Zemana AntiMalware easiness and efficiency. Currently, Zemana runs only on Windows and Android smartphones and tablets.
Lab tests scores are not very high.
The product doesn't provide any parental control option, and there is no effective VPN in the packages.
Zemana is a Turkey-based team that produces Zemana AntiMalware. Zemana is rather antimalware than antivirus producers. The product has modest lab test results: AV-Test and AV-Comparatives were evaluated only in 2018 and only for the Android Zemana app. Those times, in 2019, Zemana AntiMalware for Android detected about 78.8% of hazardous files. It looks good, but that's a mobile version, and we can't find any info about trustworthy AV-labs tests of computer version of Zemana AntiMalware and their review.
🟩 Installation
User can install Zemana AntiMalware by downloading it's installation file from the corporate site www.zemana.com. After a mentioned file is downloaded, the user can launch it following the opening windows instructions. Basically, user has no urgency to make settings in the displayed menu. The main program menu will be launched when the downloading procedure is completed.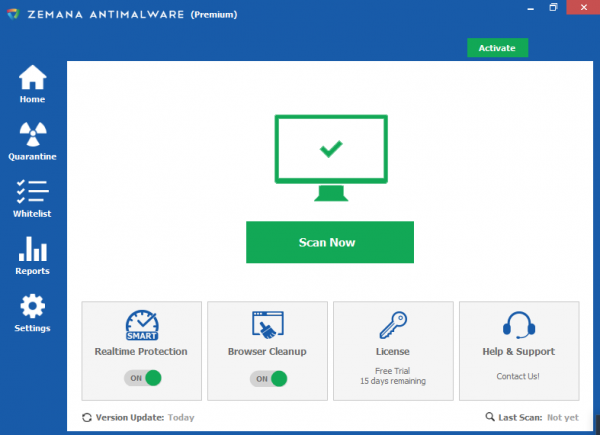 🟩 Functionality
Zemana Anti-Malware free edition proposes hazardous software detection and removing: rootkits, bootkits, browser hijackers. Zemana's free edition service range is not very wide. Many specialists suppose that it is better to use Zemana free edition and the reliable antivirus. Meanwhile, the Zemana Premium edition delivers a bit wider functions range. The user can receive real-time and zero-day anti-malware shield together with the anti-ransomware. Additionally, Zemana Premium has a PUPs detecting tool and 24/7 tech – support.
The Zemana interface is quite easy. It is probably due to its short services menu, which contains only the scan launcher button. A central dashboard displays a scan-launching knob. To launch the anti-hazard scanning, the user can press the "Scan" button. The scan process, depending on the RAM size and amount of files users want to scan, takes from 10 up to 30 minutes. Within the process, spotted Zemana would show harmful files on the screen, and after the scan ends, the user receives the list of detected harmful malware.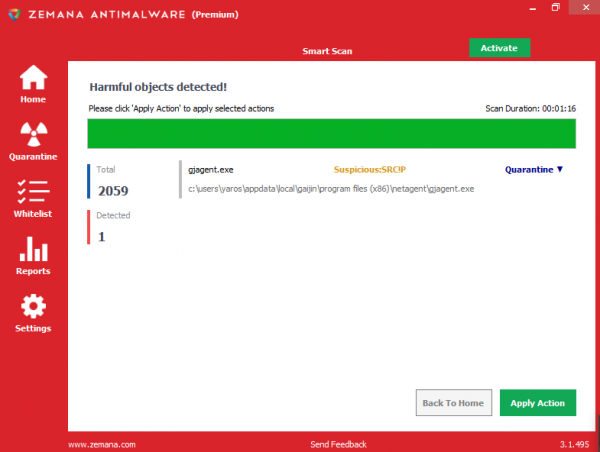 As usual for many customers "quick scan option" is absent on the main screen. The reason is, as noted by the experts that Zemana focused on detecting deeply hidden hazards. Zemana will form the list of contaminated files with the scenarios: exclude, delete, or quarantine them when the scan is done. Risks sent to the quarantine folder are stored under the "Quarantine tab". If the user wants not to include in the scan a definite program, he can place it in a "Whitelist" of the relevant tab. Detected malware statistics can be found in the "Reports" section. In the "Settings", the user can set up Zemana AntiMalware following his preferences.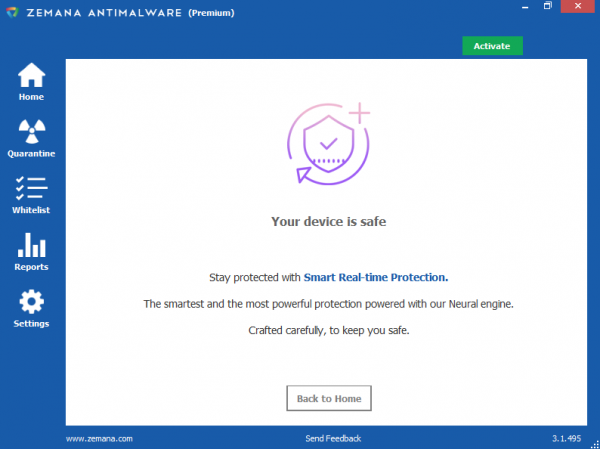 Flexibility
Zemana AntiMalware performed in two options – Free and Premium. As noted by some experts, the Free edition delivers a superficial instrument to scan the computer for hazards on request. Simultaneously, the product can find PUPs to enhance system efficiency.  With the Zemana Premium edition user receives real-time and zero-day anti-malware and anti-ransomware shielding. Additionally, Zemana Premium wipes out potentially unwanted programs and delivers 24/7 entry to technical support.
Comparability
Zemana AntiMalware is a portable product. Zemana can work on all Windows editions featuring XP and Vista. But Zemana cannot run the antivirus on Linux or macOS. Zemana AntiMalware has a settings menu projected for experienced users, such as the "Detect all browser extensions" option if the customer will use some sophisticated Internet resources. This service will spot all PUPs and wipe them out. Users can see reports in an additional component that the product provides. This function can probably be valuable for the system administrators if they want to review threats statistics seized on a computer. The threats stats enable the comprehension of how antivirus works. Despite the absence of the "Auto-scanning option", the "Scheduled scan" is available for the customer. Here, the user can set his antimalware timetable and review the lists of spotted hazards on the computer.
Read also: GridinSoft Review 2020 – Features & Price Comparison
🟩 Zemana's AntiLogger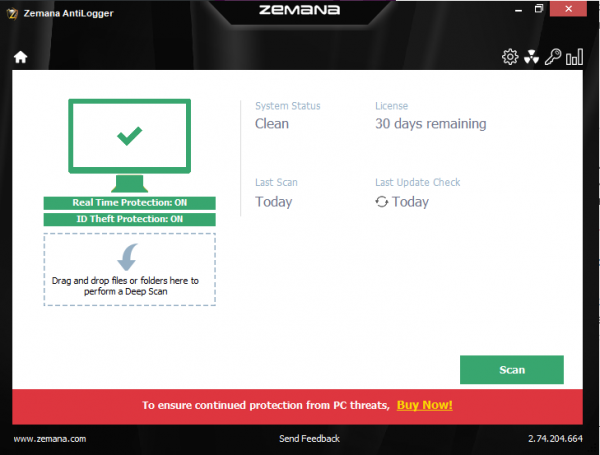 To protect the PC from online banking password theft due to keyloggers' activities, Zemana offers users its Zemana AntiLogger. This toolkit can prevent< muscular> webcam, microphone, and screen hacking. However, only Windows users can use the described functionality, but it is available for all Windows versions starting from XP. It's important to mention that Zemana AntiLogger, unlike Zemana AntiMalware, consumes much more RAM and CPU, so it could cause an annoying freeze on weak machines. The full scan lasts ~45 mins, depending on the number of files on the user's PC. Like in Zemana AntiMalware, users can scan separated files or folders. It also provides a real-time defense, as Zemana Antimalware does.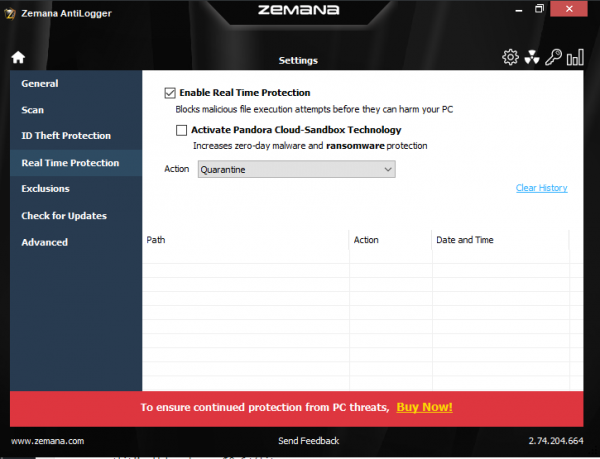 The same as in Zemana Antimalware, the user can create a schedule of scans to check his PC for possible threats. For Zemana's Anti-Logger, it can be even more helpful – as mentioned, Anti-Logger consumes much more RAM and CPU, so you can avoid unpleasant lags during your work time and still stay safe.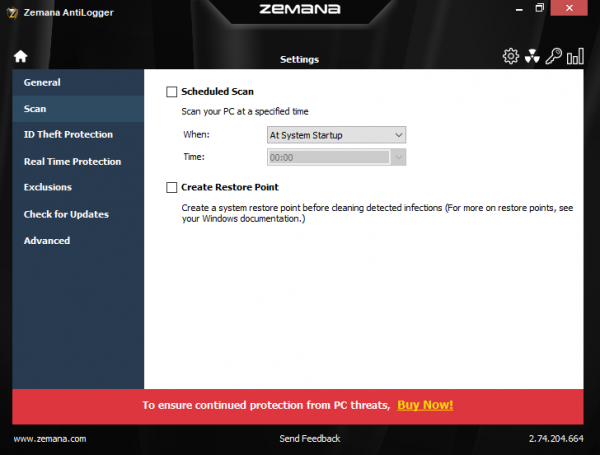 All interface features, like a list of detected threats shown during the scan performance and familiar interface ease, from Zemana Antimalware can be found in Zemana AntiLogger.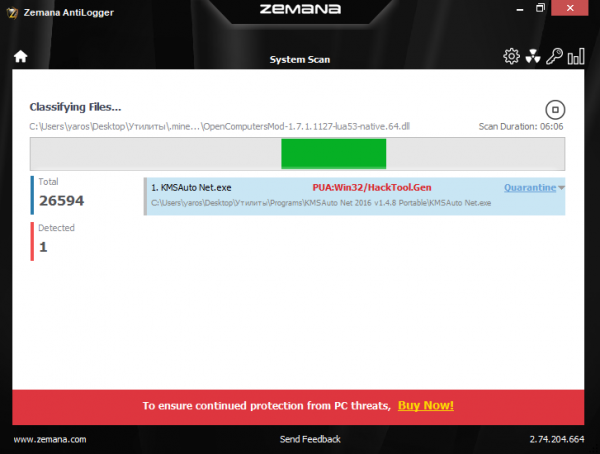 🟩 Packages and pricing
Zemana AntiMalware price varies on the device's amount defined to be shielded by the product and duration of the license.
One computer price:
1-year license – $29.99
2-year license – $45.99
3-year license – $59.99
If there is a need to cover more than one computer, the user can select pricing plans for 3 or 5 devices. The package cost will increase according to the device's amount. An optimal scenario is the 3-year-plan, which is the cheapest one.
Android users can upload Zemana on their smartphones and laptops. Here, the key features are free, but the user must pay a non-significant fare for advanced extra features.
Monthly plan – $0.6
Yearly plan – $6
A real-time anti-malware shield and some VPNs are also available for mobile devices. Plus,  Android owners will have 24/7 access to support. 

🟩 Zemana AntiLogger
To enable  AntiLogger, one can press the relevantly marked button, and the app will be on duty. The team performs a free AntiLogger demo. The full edition cost reflected in the following plans:
1-Year Protection: $40.95
2-Year Protection: $61.95
3-Year Protection: $82.95
🟩 Customer support
Zemana AntiMalware Premium customer support serving round-the-clock — 24/7 via live chat and a ticket system. Additionally, Zemana AntiMalware delivers the 30 days money-back-guarantee option, so users can get a refund without asking any questions.