John McAfee charged with fraud and money laundering
In the fall of 2020, McAfee founder John McAfee was arrested in Spain after being charged with fraud, tax evasion, willful tax evasion and violating securities laws.
According to the indictment of the Justice Department, McAfee did not pay taxes on funds that he earned between 2014 and 2018. The government also said that McAfee has long avoided meeting with tax inspectors, and tried to hide his assets, including real estate and a yacht (usually by transferring ownership to other people).
Even then, it was known that the American authorities were going to bring separate charges against McAfee related to his activity on Twitter. The fact is that, according to the authorities, he earned millions of dollars from his numerous subscribers, advertising various cryptocurrencies (and also did not pay any taxes on this).
"In recent years, McAfee has regularly received royalties for various performances and consultations, and also made money from selling the rights to film his life story", – was also noted in the documents of the Ministry of Justice.
As planned, the US Department of Justice has now filed a number of new charges. According to investigators, the fraud and money laundering brought McAfee more than $13,000,000.
Jimmy Gale Watson Jr., who in recent years was responsible for McAfee's personal security and was also part of his "cryptocurrency team", also appears in court documents.
According to court documents, McAfee and Watson have defrauded cryptocurrency investors for years. This scheme was first used from December 2017 to October 2018, and it was a classic pump-and-dump variation.
"That is, McAfee and other members of his team were buying a large number of obscure cryptocurrencies, which McAfee then actively advertised on his Twitter. As soon as attention was drawn to a particular coin and its price increased, McAfee and his comrades disposed of these assets", – the documents say.
In 2017-2018 alone, this tactic allowed them to earn about two million dollars, and investors who trusted McAfee suffered huge losses when cryptocurrencies ultimately lost in value.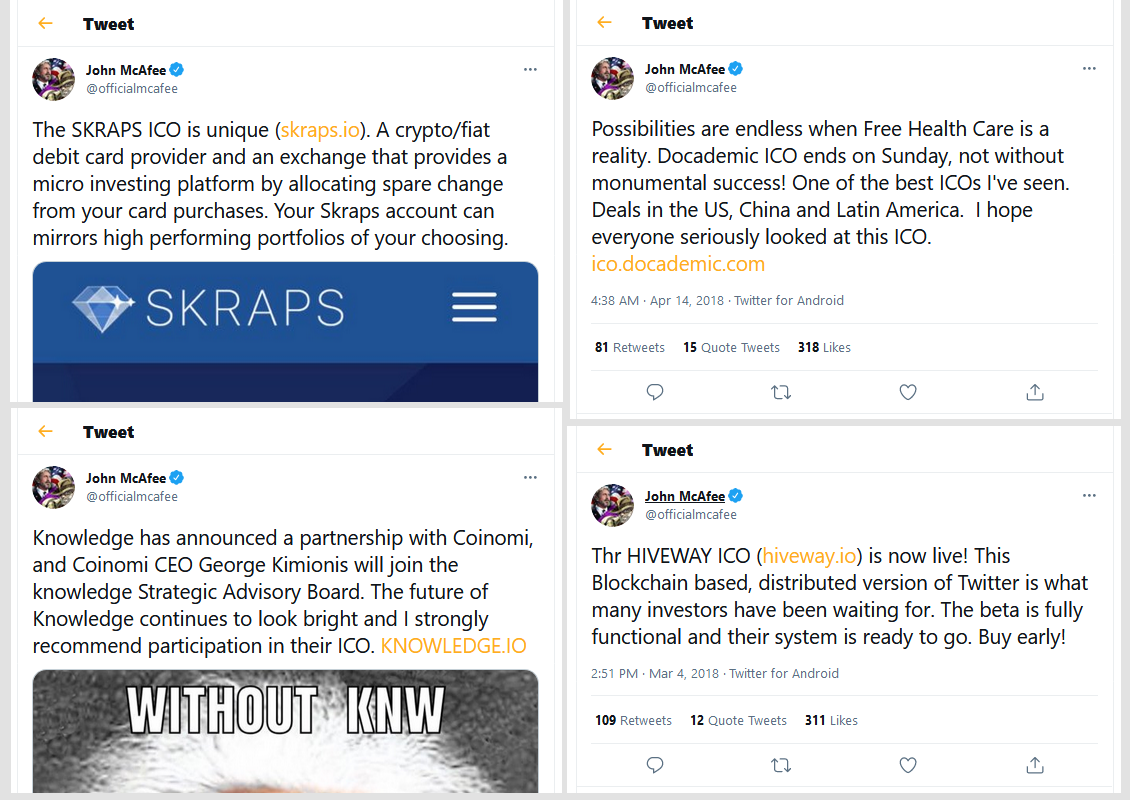 Officials also claim that McAfee was hiding information about paid recommendations that he regularly gave on Twitter, making false statements to a large audience of his subscribers.
So, in 2017-2018, John McAfee has repeatedly promoted various cryptocurrency ICOs on his Twitter. In fact, it was only paid advertising, which McAfee was silent about, and even actively denied this fact, although subscribers regularly asked him about it. As a result, McAfee and his partners earned more than $11 million from such "advertising", according to the US Department of Justice.
Currently, McAfee is still in custody in Spain, and only the latest charges can bring him up to 30 years in prison.
Let me remind you that I also wrote that Chinese hackers use McAfee antivirus for spreading the malware. However, this does not apply to the dark (and once cult) personality of John McAfee.