U.S. Authorities Declared that Kaspersky Lab Products Endanger the US National Security
The US Federal Communications Commission (FCC) has listed the products of Kaspersky Lab, as well as the Chinese China Telecom (Americas) Corp and China Mobile International USA as those that can endanger the US national security.
Companies on this list are prohibited from purchasing telecommunications equipment and services, parts and components from US companies without specific government approval, and are not eligible for FCC funding. Let me remind you that such giants as Huawei and ZTE have already been included in this list.
According to the US authorities, the products of the banned companies pose a threat to US national security. The ban was imposed under a law that "prohibits the use of federal funds to purchase communications equipment or services from companies that pose a national security threat to US communications networks."
It should be noted that back in 2017, the US Department of Homeland Security issued a directive according to which federal agencies were already prohibited from using products under the Kaspersky brand in their information systems. China Mobile and China Telecom's operations were also previously restricted in the US under the Clean Network plan, and other Chinese telecom companies could not connect to US networks.
I am pleased that our national security authorities agreed with my assessment and considered that China Mobile and China Telecom clearly meet the criteria for these organizations to be included in our list. Listing them and
Kaspersky Lab
will help protect our networks from threats posed by state-backed Chinese and Russian organizations that seek to engage in espionage and otherwise harm American interests.
said Federal Communications Commission Commissioner Brendan Carr.
In response, Kaspersky Lab has already released its own statement saying that the company is "disappointed by the decision of the Federal Communications Commission to prohibit the use of certain federal telecommunications-related subsidies to purchase Kaspersky Lab products and services."
This decision is not based on any technical evaluation of Kaspersky Lab products, which the company constantly advocates, but was made for political reasons.
the company said in a statement.
It should also be added that at the end of last week, the HackerOne platform blocked Kaspersky Lab for an indefinite period, freezing the company's bug bounty program, including even funds already allocated for registered vulnerabilities. HackerOne management reported that the programs were suspended for clients from Russia, Belarus and the territories of Ukraine that fell under the sanctions.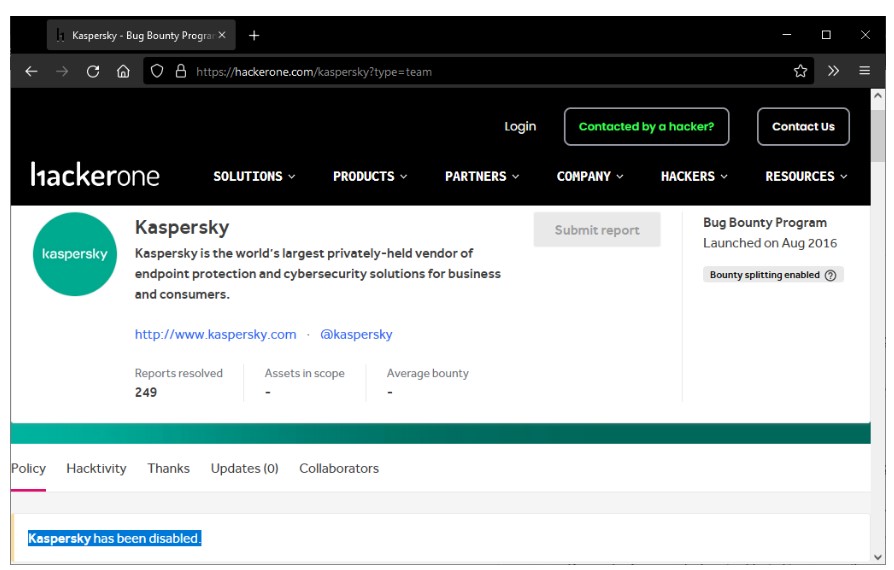 They also stressed that the sanctions do not justify the suspension of the bug bounty, since they did not affect the company.
Recall that we also said that the German authorities warned against using Kaspersky Lab products, and also that Kaspersky Lab's Amazon SES token was used for phishing.