McAfee Total Protection Review 2022 – Is a good solution?
McAfee LiveSafe offers an almost identical set of features as McAfee Total Protection, but it covers an unlimited number of devices.
Windows 7/8/10, Mac, Android, iOS
Simple and easy-to-reach menu. The key points include "Account", "Privacy", "Identify", "Security", and "Home".
Most often used buttons are in front of the first glance zone, so comfortable to reach.
High performance of it's key elements - malware, ransomware protection and vulnerability scanner.
Low RAM and CPU consumption
The service can be not able to detect all kinds of malware. In contrast to its competitors, McAfee doesn't offer a wide variety of packages anymore.
Currently, the buyer can choose between McAfee Total Protection and McAfee-LiveSafe.
Quite expensive cost of common packs
According to some experts' opinion, Windows 10 and the latest Mac OS have improved security measures significantly. McAfee, naturally, is one of the most well-known antiviruses today, and, probably, for a good reason. As noted by the sector's experts, this tool is easy-to-use, and prices are pretty affordable in many ratings. Software developers also note that by installing the McAfee Malware, you can significantly enhance the overall PC's performance. In addition, the user can have the reimbursement in 30 days and 24/7 support.
An anti-spam tool and the TrueKey app add to the overall kit a portion of the appeal.
McAfee Interface
The menu at the top provides access to every single component the antivirus has. The critical area includes "Account", "Privacy", "Identify", "Security", and "Home". Frequently used buttons are in the heading zone, so they are pretty easy to reach. In the beginning, the controls may look too big, and the windows might look like they are empty, but the user can adjust them to an affordable size and shape in a couple of clicks.
To install any McAfee product, the user should be online and activate the license key obtained after paying for a service. Then, by clicking "Yes" on Automatic Renewal, the user will get the company's Virus Protection Pledge service. And the online high trained team will solve any issue remotely if the antivirus package is not installed.
The cost of the product is $89.95. Deserving to note that if a service fails to neutralize the harmful malware, a client will get a chargeback. One can download the .exe file, launch it, and make a line of steps according to the guide to install McAfee. The installation period is up to 25 minutes. As an advantage, the engine doesn't consume a significant CPU or RAM. So, a computer or mobile gadget can run this software in background mode without any significant troubles.
McAfee Functions
McAfee Antivirus includes next useful features:
🟩 Malware Protection
In December 2019, McAfee earned 5 points out of 6 in the AV-Test and reached one of the top antivirus software positions. Only Kaspersky and Avira became the two competitors' antiviruses got 6 points. Bitdefender had third place with 5.9 points. The packages use up to 200 Mb of RAM in basic lines, which is quite appropriate. Currently, McAfee is among the least consuming AV-software on the market. And it has no, or very low, impact on PC performance.
🟩 Ransomware Protection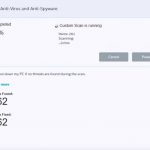 Immediately, after the start of the computer, McAfee begins to monitor the data, like many other antiviruses. In the same time, a service identifies any known – program files, autorunning programs, etc. If McAfee identifies potential ransomware, it delivers it via the web to be processed by experts in the company's "Threat Center".
🟩 Phishing Protection
Phishing malware can steal users' credit cards and bank account information. Following the average statistical data, 50% of the antivirus engines usually fail at protecting the device. As of today, only Kaspersky antimalware can deliver a 100% protection rate. Since recent times, McAfee has protection score of 100%. And even more: Kaspersky blocked only 84% of the dangerous URLs, while McAfee has shown a flawless performance of 100%.
🟩 Vulnerability scanner
The next significant achievement is the company's vulnerability scanner. Instead of searching for certain malware, the scanner focused on identifying any potential weaknesses in the PC defense system. As a result, a vulnerability scanner helps avoid local network attacks of some sort, showing the user which part of the system could be under attack, and even decreasing zero-day vulnerabilities risks.
🟩 Personal data
Total Protection plans also access two features that give the user an extra layer of online defense. When a user is online, the present threats aren't only showing him a disgusting ad and downloading malware and letting others access the computer. McAfee's digital shredder gets rid of old files permanently. Additionally, McAfee gives a password manager that keeps all personal login information safe and in one definite secure place.
McAfee Support and Customer Service
McAfee's tech support is available 24/7 — the phone number is fare-free. Moreover, users can purchase all kinds of support packages. The price of a one-time service is $69.95. One year of permanent support costs $179.95 – this is the company's McAfee® Concierge Gold package. The user also gets McAfee TechMate, home network setup, virus malware removal, software installation, and configuration. PC and Internet tune-up for 1 PC/Mac — protection for two computers costs $209.95. And the Virus Removal Service costs $89.95.
Available Packages and Pricing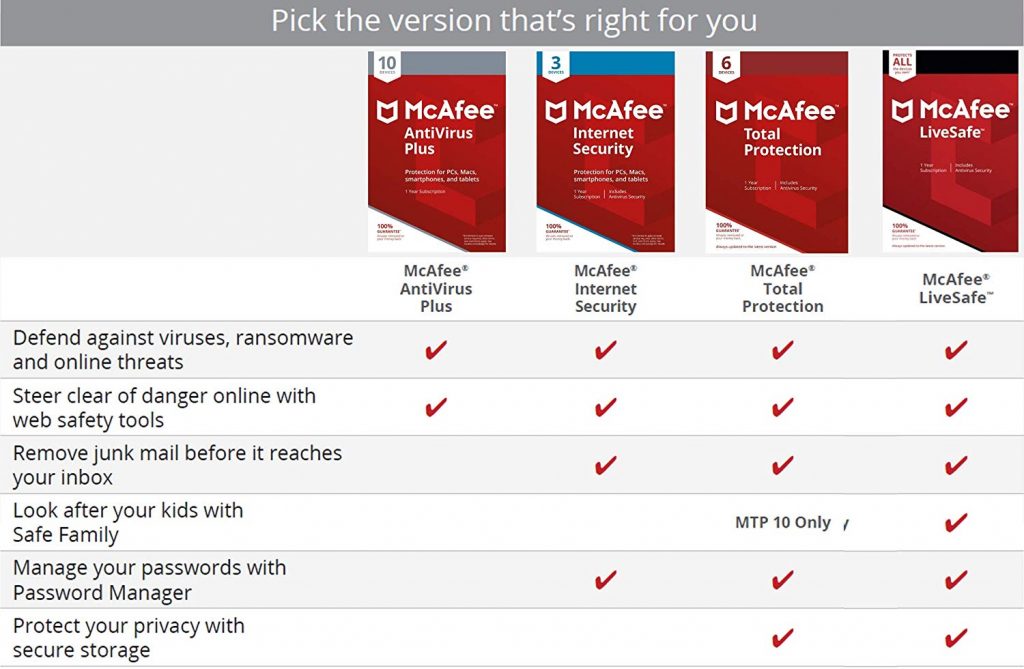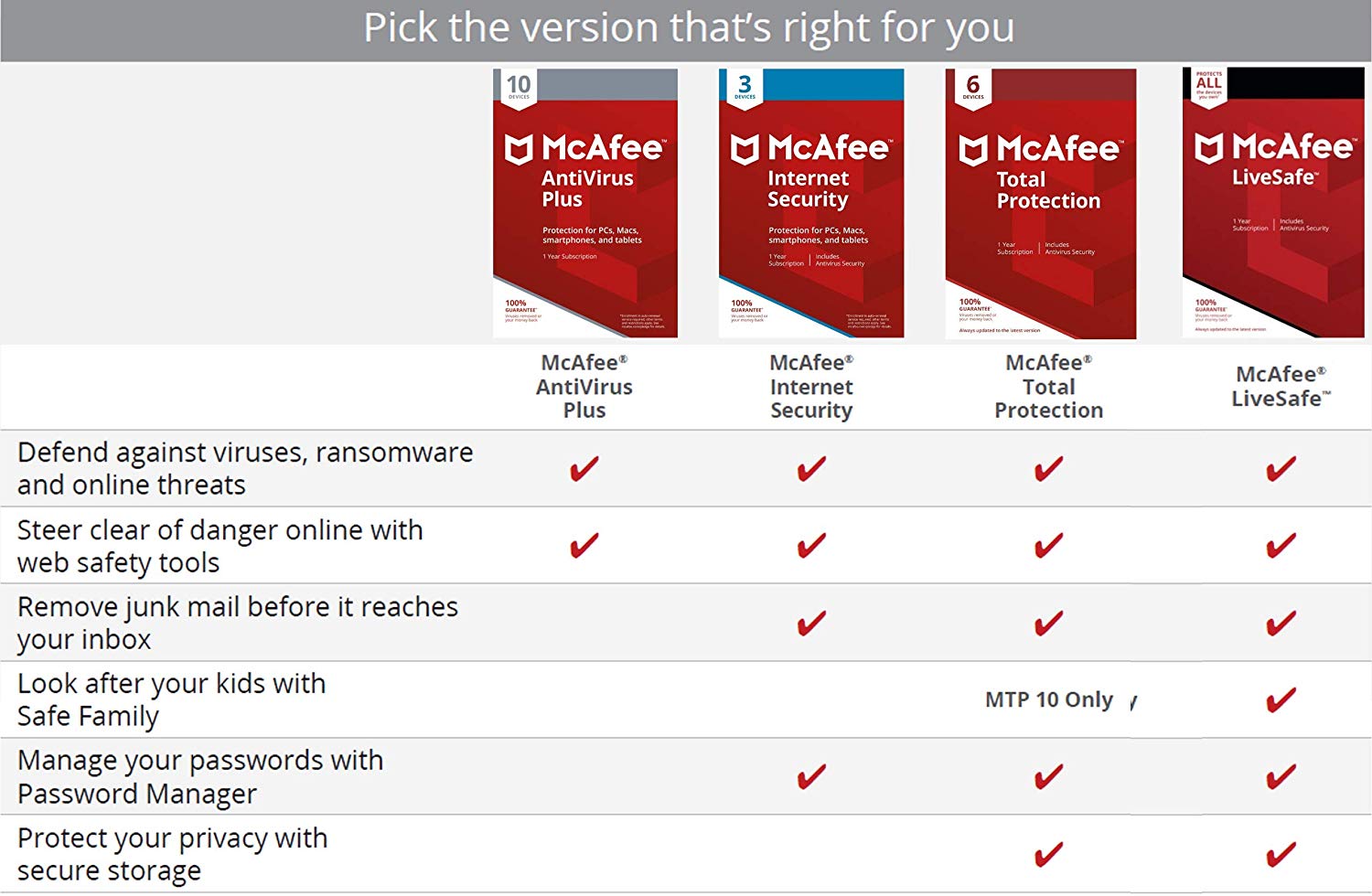 McAfee doesn't offer a wide variety of packages compared to its competitors. Currently, the user can choose between McAfee Total Protection and McAfee-LiveSafe. In addition, the antivirus for Android and iOS, a free mobile app, is also available.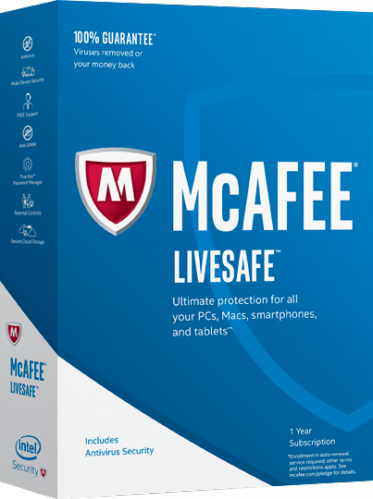 McAfee® LiveSafe™
McAfee LiveSafe costs $104.99 with $5 off. Get Your Promo Discount
Here is the McAfee Total Protection kit:
Secure Encrypted Storage
Secure Payments
PC Optimization tools (file shredder, quick clean)
PC Boost
Identity Theft Protection.  It comes with 5 and 10-devices licenses.
McAfee could be run with Windows, Mac, iOS, and Android devices. There are packages for 1, 5, and 10 devices. McAfee LiveSafe offers an almost identical set of features as McAfee Total Protection, but it covers an unlimited number of devices.
Being among the well-performing antivirus software on the market, McAfee offers affordable price for it's products. Today McAfee proposes next prices for Total Protection package:

Within the financial model of the McAfee advertising plan, one can possess this top-notch antivirus software product with a significant discount. Its Total Protection suite for one device purchased with McAfee coupons costs only $34.99, which means saving $45 or 60% of the original price. Probably, the most optimal proposal is the Total Protection 10 devices package. Its using a promo code you can decrease it's price $39.99. It is $80 lower than the initial cost for this flexible option. The intermediate option is the Total Protection for five devices. The price is $34.99 instead of $99.99