Bitdefender Antivirus Review 2022 – Is Free Version Enough?
As of today, Bitdefender is a notable name in the antiviruses producing sector. Transparent auditing centers often place it at the top of the quality ratings. Today, Bitdefender's client poll lists nearly five million loyal users across the globe. In such a context, independent pros and cons review to identify if Bitdefender products will be profitable or not for the customer might be a pretty appropriate approach.
The interface is very informative and easy to navigate. For example, a series of recommendations for speeding up the OS is instantly seen on the main screen. Quick scans are also one click away. Great Android and iOS apps.
Installation requires a time investment. A free plan is pretty basic. Bitdefender VPN – unlike Bitdefender's Premium VPN, the free edition only offers 200 MB daily traffic for devices – the size of nearly one Netflix film. Malware protection is not perfect.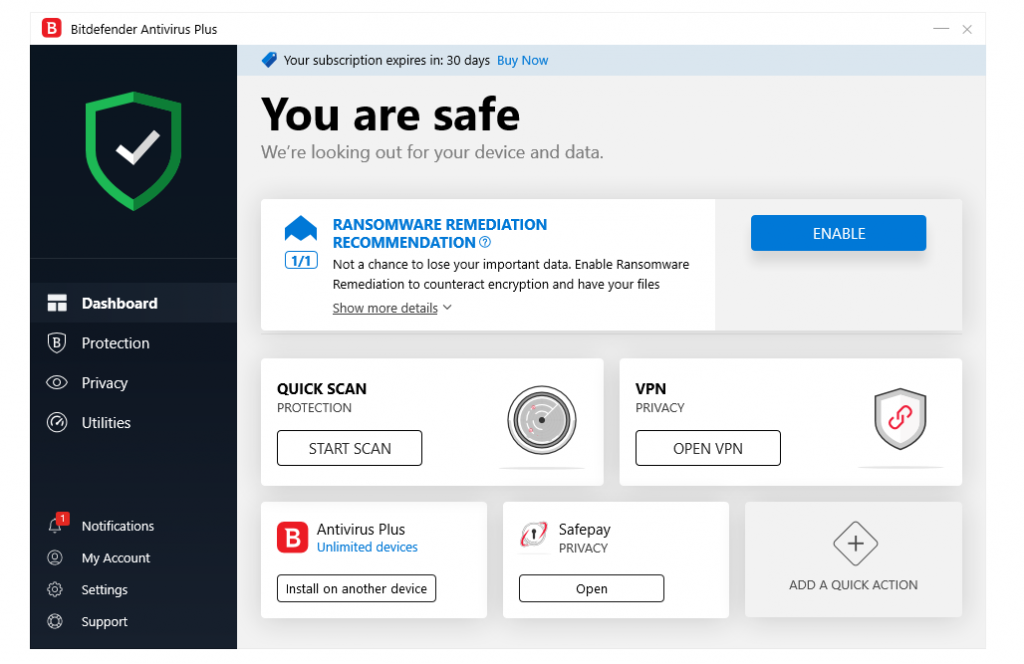 The Bitdefender Antivirus interface is easy to navigate. On the main screen, the user will see scenarios of prescriptions for speeding up the OS. To get access to Bitdefender's options — "Firewall", "Safe Files", "Anti-Spam", and some additional features, the menu "Protection" on the left of the screen will be useful. The "Password Manager", "Webcam Protection", and "Parental Control" suited within the "Privacy" option. If a task to tune a computer work in a faster mode, option "Utilities" – and one-click optimization, clean disk, and other useful tools might be used. For more sophisticated configuration options, the "Settings" menu in the bottom left corner can be the appropriate step.
In accordance with the results of the test, conducted by German auditing company AV-Test, Bitdefender able to eliminate 100% of threats for the PC. Additionally, Bitdefender identified 100% zero-day and widespread threats – as for Win7 and Win10. Currently, Bitdefender marked eight apps as probable threats. For comparison, Norton Security gained near the same result taking into account new test data.
In real-time tests undertaken by the Australian third party auditing company – AV comparatives, Bitdefender reached the #7 place among the 13 products tested and totaled 96 points. Some cybersecurity journalists suppose Bitdefender as significantly powerful antivirus software in the sector. It's compatible with all most using operating systems and PC. Mac, iOS, and Android users can operate such a multicomponent option as a Total Security plan, which includes well – recommended features like Parental Controls, Web Protection, and a Free VPN. There are a 30-day free trial and a 30-day money-back guarantee. Consequently, software usage is risk-free.
Bitdefender Features
To download Bitdefender, you will need to create a Bitdefender Central Account. The setup process is quick and smooth, and it took about 5 minutes in total.
🟩 Using RAM
Bitdefender consumes up to 700MB of RAM. But the user will not feel it working in the modern PC. For an average PC, Bitdefender can, for a short period, slowed down the device only by 8-10%. If to compare some products to deliver a 50% slowing impact on the device. In an average overview, Bitdefender Antivirus has components able to keep the computer against malware and clean it if it is already infected.
🟩 Malware Protection
The whole spectrum of Bitdefender's antivirus products built on the same core. So, no matter the plan is chosen, buyers benefit from the equal core protection. A minute or second, Bitdefender identifies potentially harmful files or codes. Then, it permanently compares it with the database examples. Simultaneously it carefully monitoring their behavior. Each newly searched and unknown code fragment is forwarding to the servers for multifunctional analysis. During the day, the Bitdefender company supplies the computers of 500+ million users with new, improved signatures. And in case somebody refuses to let the antivirus absorb data from the device, a person will get these updates.
🟩 Bitdefender Autopilot
The Bitdefender scanning is friendly and light: within the following instructions, the user will see the green "check" on the dashboard, which means the scanning procedure finalized and no immediate threats detected, in a couple of minutes. The corporate label — Autopilot option — might be suitable: If the user turns it on, the Bitdefender Antivirus will shape and apply an optimal service algorithm to solve a current task for a computer. When it's option is off, the user is free to choose between 5 modes: Game, Movie, Work, Wi-Fi and Battery.
🟩 Scanning Options
NB: In case of plugging in a flash drive or any other external data storage – a CD or a DVD, Bitdefender runs a quick scan of it.
A quick scan function in the Bitdefender antivirus, as in most other antiviruses, is available on the dashboard.
A full scan can be started in the "Privacy" menu
. Scheduled scans — at night, during the weekend, are available also. Bitdefender's
quick scans time near 7-8 seconds
. Meanwhile, the full scan can consume up to 1 hour and 30 minutes. But all the next scans will take less time.
🟩 Anti-theft add-on, Ransomware and Phishing Protection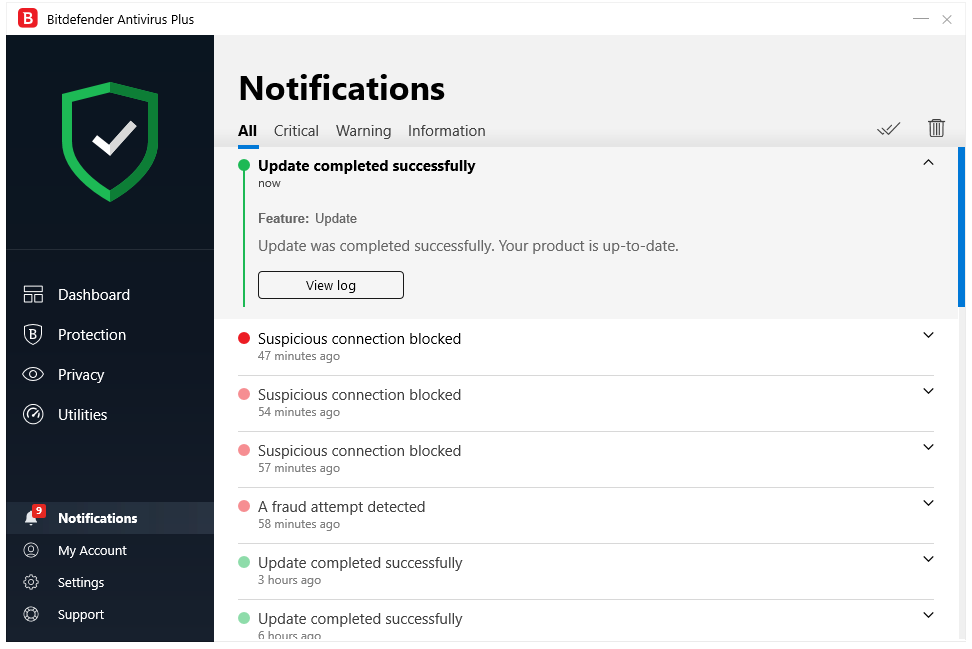 An anti-theft option supplies definite Bitdefender plans. If a device gets stolen, this feature will allow the user to identify the PC's location and switch it in a mode no one else can use it. Bitdefender's Firewall is another option, delivering the opportunity to tune the desirable or non-desirable passing modes for the IP addresses, ports, and more. The mentioned option in the form of a Behavior Monitor prevents ransomware contamination of any PC files. Also, the Bitdefender applies a "Web Shield" — that saves from phishing malware and visiting harmful sites (Web Shield detects non-clear links in a document).
🟩 Bitdefender Webcam Filter
As much expert note, Webcam Filter is probably one of the most using Bitdefender functions. This feature focused on rigid eyes prevention from monitoring a PC webcam and spying on the computer owner. Also, Bitdefender antivirus includes a webcam filter that protects the camera from being taken over.
🟩 Bitdefender Password Manager
Bitdefender's Password Manager delivers an option to store all login details in a definite place. Simultaneously, it keeps credit card details and other personal information in a safe digital harbor. One can set up multiple password databases, syncing them across all Bitdefender-protected devices.
For example, Bitdefender's Safe Files function provides an option to put any file into the folder mentioned in order not to change or read them without the authorized permission.
🟩 Bitdefender VPN
Bitdefender VPN – enhanced with the Hotspot Shield is initially embedded in every Bitdefender product. At the same time, unlike Bitdefender's Premium VPN, the free edition only offers 200 MB daily traffic for the device – the size of near one Netflix film. Without the option to change a location, the free Bitdefender VPN is effective for basic web browsing. Premium VPN option is a more smart solution one can use by clicking the "Premium VPN" option at checkout. It should be noted, Bitdefender Premium VPN is costly, even if it embraces to five devices. The cast of a one-year plan directly from Hotspot Shield is almost 2x that of the basic average version.
Customer Support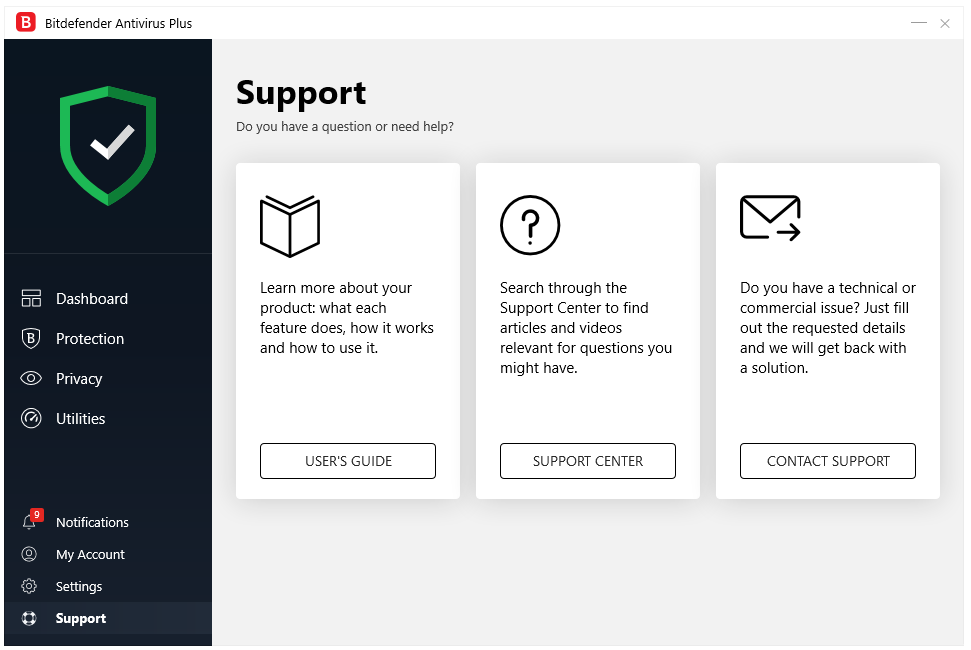 The official website can be a good instrument to solve potential problems personally. A wide desk of helpful articles in plain English can be found there. For a paying customer, Bitdefender provides 24/7 access to Customer Care via telephone calls, emails, and a permanent live chat.
Available Packages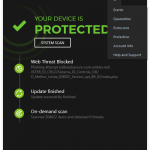 Bitdefender Antivirus has a free desktop app and a free trial of any premium kit. But Bitdefender's Antivirus Free Edition is compatible with Windows only. Basic features, including real-time protection and web attack prevention, is in free mode. But for a more high-profile service — ransomware protection, anti-tracking or safe online banking, a buyer has to shift to a paid plan.

🟩 Basic Paid Plan: Windows only Bitdefender Antivirus Plus include
Multi-layer ransomware protection, with a wide than free version coverage.
200 MB of encrypted VPN daily traffic – near the Netflix movie length
24/7 support
Multi-Layer Ransomware Protection including the Anti-Phishing & Anti-Fraud apps
Safe Online Banking feature — saving from hackers sensitive information stealing
🟩 Highest Paid Plan: Bitdefender Total Security
Bitdefender Total Security can protect not only Windows OS but also macOS, iOS, and Android. Being similar to the Bitdefender's Internet Security, this plan propose all abovementioned components supplied with the anti-theft tools and free access from any Globe point via a "Bitdefender Central" account & a "OneClick Optimizer.
Bitdefender Antivirus Plus
Bitdefender Antivirus Plus is an entry-level commercial package and is the most popular plan among Windows Bitdefender users. Here's what a customer will get with it:
Multi-layer Ransom Protection
100% free, 24/7 customer support
Wi-Fi Security
Online Banking Protection (secures your transactions with Safepay)
Password Manager
Search Advisor
200 MB of daily traffic for the VPN
Vulnerability Scan
Bitdefender Internet Security
Bitdefender Internet Security is the next tier in the Bitdefender architecture. It proposes a more enhanced security level than two previous plans. Internet Security plan consists of all the parameters above listed and plus:
File Encryption
Webcam Protection
Firewall
File Shredder
Parental Control
Bitdefender Total Security
A package focused to protect not only a Windows OS, but also Android, iOS, and Mac OS running devices. So, according to a well-known expert's point of view, Bitdefender Total Security is the most business-successful Bitdefender' package. Similar with the Internet Security plan, a package includes previous plans components and proposes some additional:
Anti-Theft
One-Click Optimizer
Protection For Mac, iOS, and Android
Bitdefender Pricing
| | | | |
| --- | --- | --- | --- |
| | 3 Devices | 5 Devices | 10 Devices |
| Bitdefender Antivirus Plus | $29.99 | $69.99 | $79.99 |
| Bitdefender Internet Security | $39.98 | $41.99 | $89.99 |
| Bitdefender Total Security | Not available | $44.99 | $99.99 |
Total Security package for 10 devices price — $44.99, and the Mac package for 3 devices cost — $39.98. The Android package cost — $14.99.
Bitdefender Coupons Promo Discount
Being one of the high profile antivirus software providers, Bitdefender always projects a promo campaign for its new and current users. Bitdefender coupon provides the opportunity to save up to 56%. The most popular – Bitdefender Total Security – is on the market for $39.99, not for $89.99. The package projects complete protection for up to 5 devices. Bitdefender Premium Security price with promo code is — $89.99 during the first year, which is 40% off the initial price. Its cost without a discount is $149.99.