Norton 360 Standard, Deluxe, Premium – Comparison & Review 2022
Norton provides malware protection without slowing performance of the system during the scans.
Windows 7/8/10/11, Mac, Android, iOS
Yes - *Norton 360 Standard and more
Yes - *Norton 360 Standard and more
One of the most significant Norton's options -- automatic "Cloud Backup" when the computer is saving files in non-using mode.
Secure VPN (Virtual Private Network) with a strict "No Log" policy. VPN is constructed to protect all the business-financial data, passwords, e-keys, and personal information that can be stolen via the internet. Also, VPN will be useful when a PC is connected to public Wi-Fi networks.
Norton doesn't record users' identities or browsing history.
Norton 360 Mobile App is FREE.
Norton packages lack file shredding, a secure web browser, and secure file encryption.
Sometimes, Norton doesn't block detected viruses. One user may have to double-check that every detected threat was blocked and moved to the quarantine folder.
A minor complaint about Norton's user interface is that there's no desktop application for Norton Password Manager -- only a browser-based web app. But this isn't going to bother many people.
"Parental Control" available in 360 Deluxe and 360 Premium only.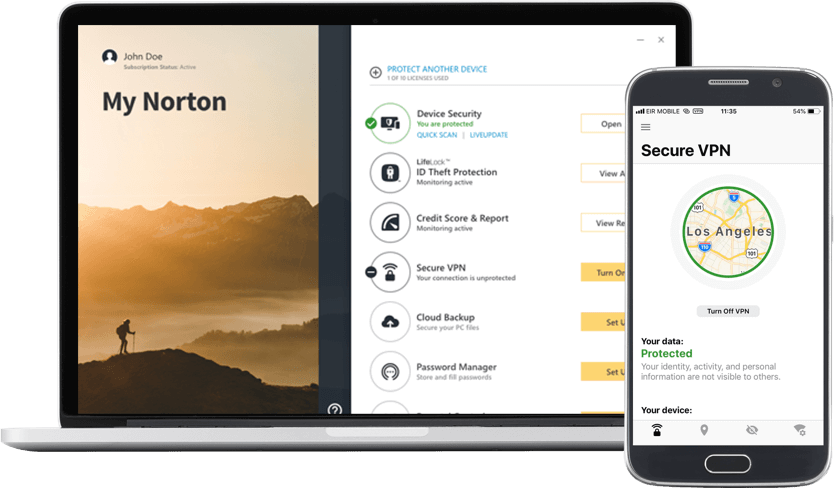 Nowadays Norton is constantly presented in well-performing cybersecurity products basket. In accordance with the real-world protection test results produced by AV-comparatives, Norton Antivirus identified and seized near 99.3% of cyber-threats.
Norton 360 new edition got a rank of maximum 18 points as a result of the AV-Test Lab. The score for such a basic component like performance, and usability was 6. It is notable, that Norton, typically scored 5.5 points for usability.
Norton 360 Interface
Briefly, Norton delivers trustful malware protection without slowing the performance of the system during the scans. If malware tries to access a website, Norton will block the entry attempt indicating a warning on a slash screen.
When a user tries to download malware, Norton also will pop-up a public warning window and pause the downloading process. Simultaneously, detected viruses are placed in the quarantine folder to prevent computer contamination. In every case, when a contaminated file is caught, Norton Antivirus would inform the user about the threat that was going to install itself on the computer. Norton offers 2 interfaces: " My Norton" and "Classic". These options are projected to retain and keep long-standing customers in a comfortable, as experts consider the old interface, but the second option is projected for new customers.
Norton 360 Functions
When the program is opened, four relevant security options are offered by Norton: Security, Backup, Performance, and Identity. For some additional information, click "More Norton" is available. A reminder tells when the subscription is soon to expire and delivers the link to extend the subscription.
Norton 360 installation process is straightforward and not complicated: 1 Mb setup file that transforms into a 175 Mb installation and type the activation code. The program will offer the user the option to participate in data collection — Community Watch. But you can skip this option.
To check system in one-click – to start a quick scan –it consumes nearly 7-8 minutes. Green colored plate will inform, that Norton 360 delivered optimal protection and system in safety. If Norton 360 found a malware user will see a red X mark. It means system data is under threat. Also, you can launch Silent Mode.
➡️ Malware Protection
Like many other antivirus software, Norton has three levels of protection. Signature matching — the software is connected to the known malware packages database. The protection validity is strengthened by multifaced analysis – it permanently monitors software behavior and checks new programs code in order to detect unknown malware before it contaminates the PC devices.
Usually, Norton produces a portion of new updating signatures several times a day. Then, cases obtained from users' machines are collected and analyzed on the echelon of the proprietary cloud servers. After multicriteria consideration, Norton's expert team delivers correct data and masterminds a signature update if potentially dangerous items are identified. In addition, Norton includes browser extensions for Mozilla Firefox, Chrome and Internet Explorer. These apps make permanent checks of destination headers for web packets for connection with known malicious websites.
➡️ Ransomware Protection
Each version of Norton antivirus has a ransomware protection component. This unit enables users to purchase online without fear of credit card credential theft by malware. Additionally, you will protect the user's personal data stored on the PC against non-planned encryption.
➡️ Phishing Detection
All Norton plans are supplied with an anti-phishing protection package. The software identifies suspicious links or files early before they infect or contaminate the user's PC computer and make any hazard for personal information.
➡️ Customization level
Norton offers an option to exclude specific folders or file types from scans in order to save time. Automated tasks can also be scheduled, for example, via the clearing browser history or backing up big unnecessary files.
Norton 360 is shaped with a 4 key security features:
Device Security.
Cloud Backup.
Secure VPN.
Password Manager.
➡️ Device Security
Norton technology labeled as "Sonar"–Symantec Online Network for Advanced Response. SONAR exploits a line of methods to deliver an anti-malware shield for a computer. Besides the usual signature-based antivirus techniques, SONAR can detect unknown and emerging types of malware, so-called "zero-day" threats.
➡️ Cloud Backup
Norton's "Cloud Backup" delivers reliant storage for important files and data. For many reasons, cloud backup is handy — one is able to easily reach files on the phone, home computer, work PC, or any location you can access the internet. Also, Norton offers cloud storage –to protect against ransomware.
During Cloud Backup installing, Norton lets the user choose what kind of files to back up, where, and how to back up them. In addition, Norton cloud backup provides an option to save data by file-type, for example, pictures, office documents, emails, etc. Furthermore, you can schedule backups weekly or monthly basis. One of the most significant "Cloud Backup" option is the "automatic backup" when computer saving files in non-using mode. Some experts suppose Norton's Cloud Backup to be more advanced and comfortable than Dropbox or Google Drive because Norton automatically makes data savings.
➡️ Secure VPN
Secure VPN – virtual private network: a strict"no log" policy.
VPN is constructed to protect all the business-financial data, passwords, e-keys, and long line of personal information that you can steal via the internet. VPN is in active usage when a PC is connected to public Wi-Fi networks. Norton Secure VPN uses a rigid "no log" protocols. So, Norton doesn't record users' identity or browsing history. As a result, VPN keeps one's activity privately hidden.
Furthermore, the internet traffic circulating via the Secure VPN is highly encrypted. Notably, Norton Secure VPN can hide the user's true locations via connecting to secure servers all around the world. More, it provides an opportunity for customers to use unlimited data.
To compare: a dozen antivirus companies make a volume restrictions on VPNs. For instance Kaspersky — 300 MB per day, Bitdefender — 200 MB per day, and Panda — 150 MB per day.
➡️ Norton Password Manager
Norton Password Manager lets you:
Store usernames, passwords, texts, contact details, card details using secure 256-bit AES encryption;
Assess the strength of current passwords;
Generate strong new passwords;
Automatically change passwords on over 60 sites including Facebook, Amazon, and eBay.
Autofill login details, addresses, and payment information as you browse the web.
Norton Password Manager works as a browser app, and after installation, the password strongness criteria testing creates a Password Vault. It has a moderately simple interface. The "Safety Dashboard" toolbar delivers an overall password score strength. With login credentials, you can place payment details, addresses, and notes in the Password Vault.
Also, Norton Password Manager possesses "Autochange Password " component. So, passwords are automatically changeable with just one click. The option is in correspondence with over 60 sites, including, of course, Facebook, Amazon, and eBay.
Norton 360 Mobile App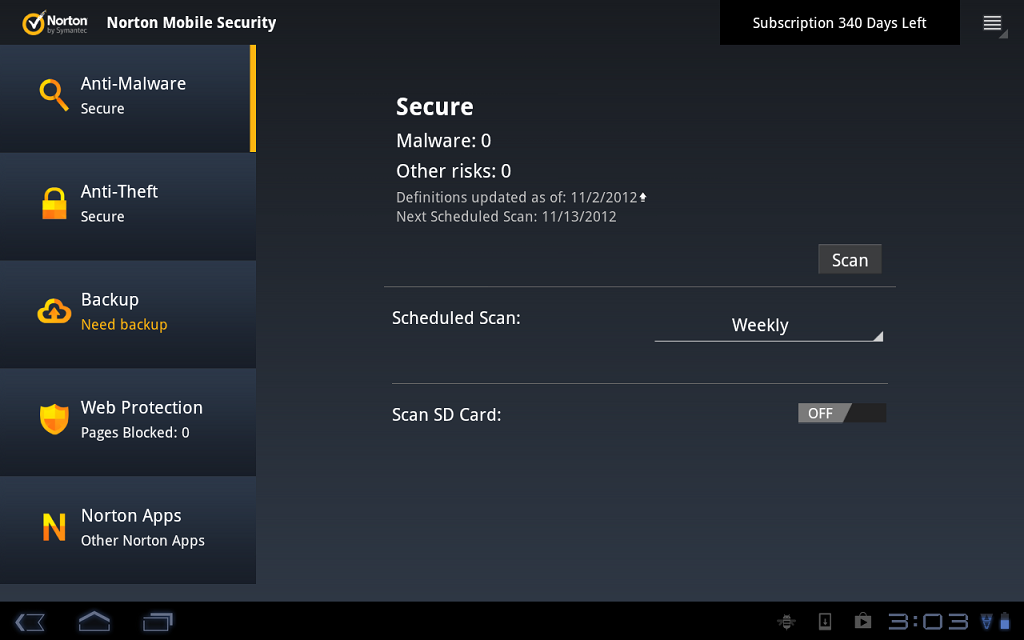 Norton advertises a "FREE" version of Norton Mobile Security that provides the following features:
Malware scanning and real-time malware protection (Android only).
Anti-Theft (Android only).
Wi-Fi Scan.
Web Protection.
Link Guard.
Safe Search.
App Advisor — checks apps for privacy and battery-use issues.
The following features are also available on mobile, but via separate apps:
Norton Password Manager.
Norton Parental Control.
Norton Secure VPN.
Norton Packages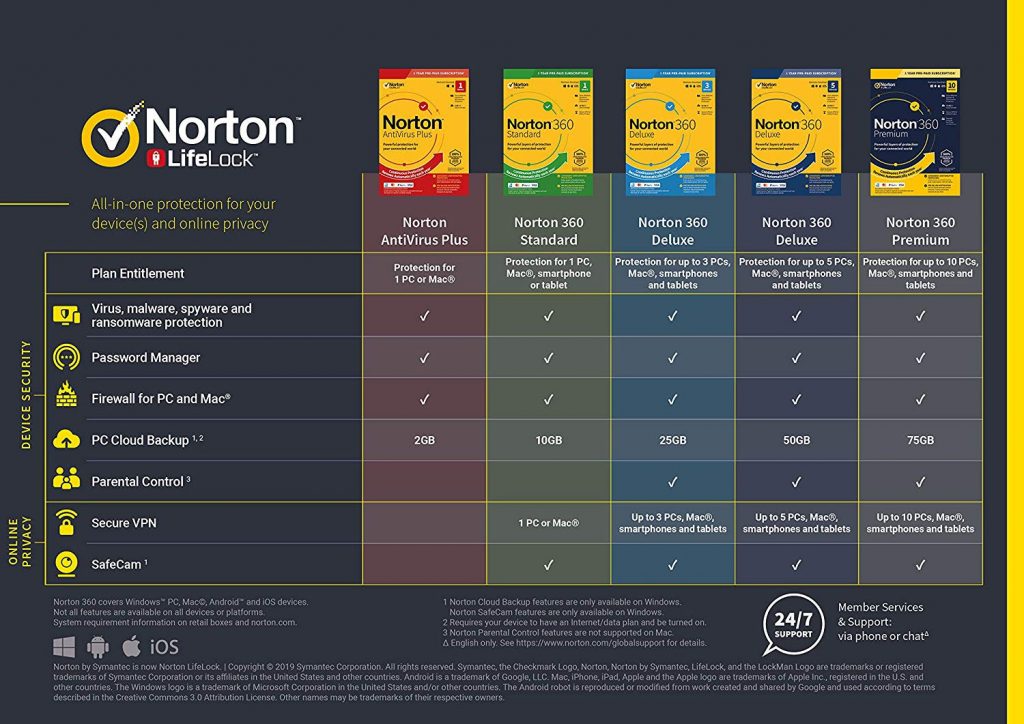 Four optimal packages to select:
Norton Antivirus Plus — is a simple package focused on protection 1 PC or Mac from all kinds of ransom-malware. Flexible firewall, password manager  and anti-phishing instruments are package components. Additionally, the package supplies 2GB of Cloud Backup.
Norton 360 Standard — is the more advanced plan for one device and is joint with iOS and Android. This option delivers more Cloud Storage — 10 GB, webcam protection, VPN tool, Dark Web monitoring to save personal data. The cost of the Norton 360 Standard – $39.99 for the year with a $40 discount.
Norton 360 Deluxe — is a version of the Standard package for five devices with 50 GB of storage and parental control. A focused Web Portal helps to navigate it easily. Norton 360 Deluxe – $49.99 for a year with $60 off.
Norton 360 Premium offers 75GB with the Cloud Backup feature. The price – $49.99 for a year with $60 off.
Available Packages and Pricing


If one never applied for Norton products before, he can take advantage of Norton coupons for new customers and purchase its high-quality antivirus with a significant discont. For instance, the discount on the Norton 360 Standard — 1 device for the 1-year is $50 off – $29.99 instead of $79.99.
Norton 360 Deluxe — 5 devices for the 1-year cost is $39.99 instead of $99.99. And the price for the Norton 360 Premium + LifeLock is $89.99 against $149.99 ($60 off). The latter offers yearly protection for up to five devices.