Emsisoft Anti-Malware Review 2020
Emsisoft Antimalware was been established in 2003 in New Zeland, after their CEO-to-be caught a trojan in ICQ. Seventeen years of development, a lot of awards, but is this a real success? Let's check this out.
Windows 7, 8/8.1, 10, 32&64 bit.
29.99$ per year for one device
Emsisoft Antimalware is highly configurable
Emsisoft delivers to the customer a free 30 days trial without any credit card details or so. A 30-day money-back option provided also.
An Emergency Kit Maker enables creating a portable Emsisoft setup, the customer can use on USB to check or clear other computers.
The product size is very modest: installing file size is 2MB, the whole programm size is about 750MB
The product has few results from independent test labs.
Emsisoft interface is a bit awkward and cluttered than most full-strength suites.
There are no password manager, secure deletion tool and system optimizer in the package. No Parental Control.
Relatively low compatibility - can only work with Windows and Android.
Emsisoft performance consumes a lot of RAM and CPU, what may cause lagspikes.
The Emsisoft team is based in New Zealand and delivers it's product since 2003, providing anti-malware shielding for individuals with it For Home pack, and business entities with For Business pack. Currently, Emsisoft Anti-Malware was not included in the AV-Test or SE Labs in 2019. But in December 2016, the last time when it was been fully tested by AV-Test, Emsisoft got 5 of 6 points – very well results as for a mid-range antivirus. Interesting moment: a couple of years ago Emsisoft purchased Bitdefender's engine, so all on-demand file-based technologies in Emsisoft antivirus are backed by Bitdefender's technologies, but for everything else they have their own engine.
👉🏻 Anti-Malware installation and first launch
Emsisoft installing, like most of its peers, begins from the downloading. On the Emsisoft website, users can choose between 30-day trial mode and buying a subscription. Trial mode usage requires creating an account on MyEmsisoft -their userspace. In the future, you can find here statistics of how the protection of your PC goes. Also, this workspace will be quite useful for corporate subscription owners, because there is a window with aggregated stats of all computers in your company. There you can download Emsisoft, whose file is tiny – it takes about 2 MB. Of course, core software files will be downloaded during the setup process. After the installation process, new program will automatically check for updates, and then, Emsisoft is ready for work.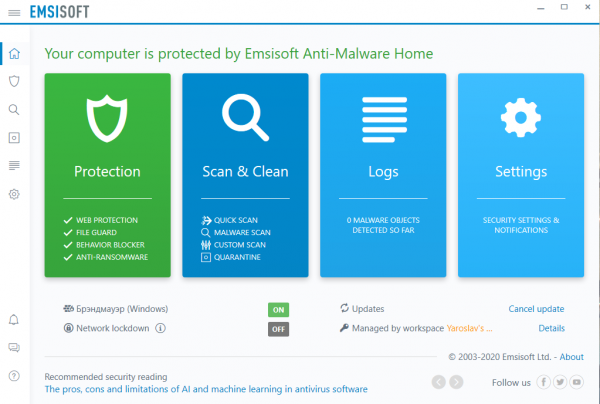 👉🏻 Product functionality
The key antimalware package of the Emisoft are capable to identify and shield mal-ransomware, PUP, and a lot of other types of threats. The free version delivers on-demand and scheduled scans, real-time protection and firewall, the same as paid version. In most components, Anti-Malware Home delivers:
Emsisoft performs different scanning options. User can choose between deep, fast, selective and smart scan. A well-structured description is attached to each scanning option;
Double scanner, which during the file processing, comparing the located in the PC files with near four million hazardous applications;
Mighty active shielding. Emsisoft Anti-Malware permanently researching the system activity and focusing the user's attention in case of malware accession attempts. Each computer can be set at the MyEmsisoft user space;
Product also featuring a Windows Firewall Fortify, a facility that blocks all un-eligible settings in the Windows Firewall parameters. Malware-IDS security module via an automatic-without user-control will capture all sorts of hazards approaching the computer;
A free edition, as mentioned, has the same functionality as a licensed version — in contrast with a lot of free antimalwares, which ask user to shift to a paid version immediately after the system scan, or when you want do delete all detected threats. Here, the user can wipe out all identified malicious files without additional payments;
Read also: RogueKiller Anti-Malware Review 2020
A paid version adds a pack of real-time protection components: anti-ransomware, behavior monitoring, phishing, and particularly enabled via a web-based console remote management. For fresh-installed Chrome, Firefox, and Edge Emsisoft offers an effective instrument to stop hazardous and phishing websites – Browser Security, that could be run both as a browser extension or in Emsisoft app. Basically, Emsisoft's URL filtering program spotting a visible 70% unwanted URLs during recent tests.
The Emsisoft interface is quite tangled and has a lot of repetitions. In it's main menu you can see four main buttons – Protection, Scan and Clean, Logs and Settings, but the same tabs you can find on the left line of the Emsisoft window. And again, when you are choosing the Settings tab, you can see that it's internal menu items are duplicated with the on-top bar.
By touching a "Scanning" tab, the user launches a quick, deep, smart, or selective scan mode. In case the user decided to skip the primary full scan, this service will be proposed to him later, due to Emsisoft forms a scheduled full scan task. The user is eligible to set a daily, weekly, or monthly scans schedule. But many option can be avoided by choosing "Scan and Clean" and "Quick Scan" to launch a simple antivirus check, or press "Logs" to see recently done steps.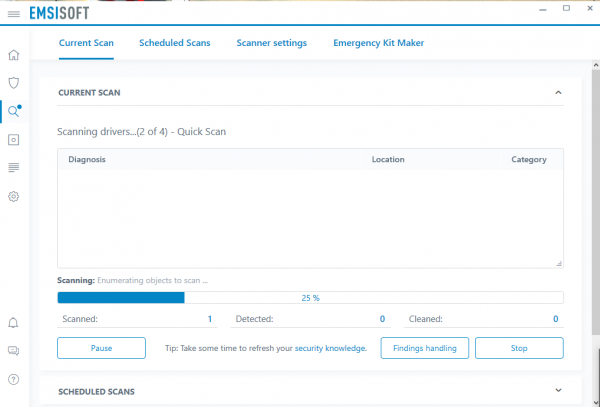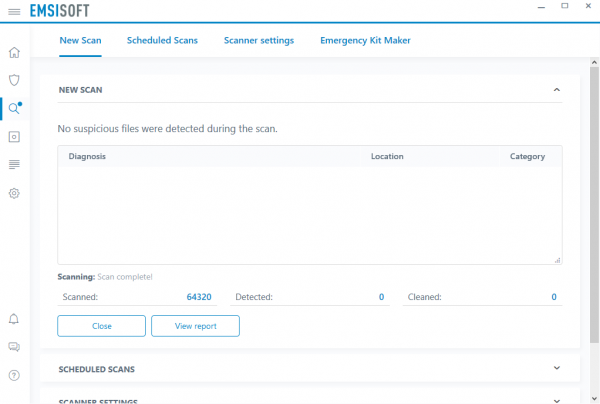 Quick scan: Pushing the "Scan & Clean panel", user can start the fast scan, a malware scan, or a custom scan. Navigation is quite simple: by chattering the tab, the user opens a page with a precise recipe for a definite scan. The quick scan monitors only active programs, while malware scan searching all system space. Quick Scans takes about one minute.
Full scan: a chosen disk will be scanned (C: by the default). A more deep and precise Malware Scan takes up to 30 minutes, depends on the number of files on a scanned disk. It is a most requested function for a big part of users.
Custom scan: this tab offers an ability to set up a scan with your own settings. At the same time, this option is performed in autopilot mode. There is no urgent need to make any adjusting. Also, a smart scanner delivers the option to make scans with a definite time interval: for example, between 9 am and 11 pm on Mondays, Wednesdays, and Fridays. Another example: after Windows start or after a USB plugging. NB: Emsisoft will not start a scheduled scan by default when it in Silent Mode. This mode switch when the system RAM overloaded by the volume consuming app or game. All features described above can be delivered for free for 30 days. If the user is not satisfied with the results, Emsisoft projects a 30-day money-back guarantee.
Emergency Kit Maker: Pressing the "Emergency Kit Maker" option, the customer can create a set-upped antivirus facility — Emsisoft Emergency Kit. This Kit can be recorded to a USB and for other computer disinfection.
Logs: If to scroll at the screen bottom, the user can find "Scan Start" and "Scan Finish". Double-pressing "Scan Finish" shows the basic actions list. If to go to the end of that list, one can see a "View the detailed Scan log" with the total range of the information.
It's important to mention, that the scan process consumes a lot of computer resources. So, incompatibility with old Windows versions is not just the developer's desire – old and weak systems will rather get a lag spike instead of scanning process. Also, Emsisoft has very strange behavior when you are trying to turn it off: it would disappear from tray, but it will still be running, according to Task Manager info. In case you will try to shut it down in Task Manager – your system will be "hanged" and the Emsisoft process will show an enormous consumption of your RAM and CPU. We don't completely know what is it and why does it happen.

👉🏻 Emsisoft Packages:
Emsisoft Anti-Malware Free: shields the computer from a wide range of the malware: spyware, adware, spam mailing, keyboard spies, rootkits, callers, ransomware and browser hijackers.
Emsisoft Antimalware for Business: a solution, that enables protection for the business from ransomware, bots, bank trojans, rootkits, etc. Emsisoft anti-encryptor facility identifies non-programmatic behavior algorithms directly after the first attack attempts and blocks the file transformation.
Emergency Kit Pro: a mobile antimalware tool, that can cure a computer without Internet usage for uploading by using a USB flash drive. The packages feature Emsisoft Command Line Scanner that works without a graphical interface. The facility is constructed for system administrators for multifaceted goals.

👉🏻 Emsisoft Anti-Malware Pricing:
Emsisoft for Home Pricing

| | | |
| --- | --- | --- |
| Package | Pricing | Devices |
| Emsisoft Anti-Malware Free | Free | 1 |
| Emsisoft Anti-Malware Home | $29.99 per year | 1 |
| Emsisoft Anti-Malware Home & Mobile | $39.99 per year | 1 |
The Emsisoft Anti-Malware Home annual one device price — $29.99.   Annual 3 devices cost –$49.99. For 5 devices, the annual cost is $69.99. The price features: — behavior blocker, — surf protection, — anti-phishing-ransomware shield. Auto-updates, emergency kit makers, and a remote management facility is included in the package.
The Emsisoft Anti-Malware Home & Mobile cost for one device annual protection is $39.99. For three and five: $66.65 & $93.92 suitably. As an extra service, the user will have an Android anti-theft and anti-malware shielding.
Emsisoft Antimalware Packages for Business Pricing

| | | |
| --- | --- | --- |
| Package | Pricing | Devices |
| Emergency Kit Pro | $99.99 per year | Cleaning of 250 Machines |
| Emsisoft for Business Security | $35.99 per year | 3 |
| Emsisoft Enterprise Security | $59.99 per year | 3 |
Emergency Kit Pro: a 1-year license price is $99.99. Emergency Kit Pro can decontaminate up to 250 devices. Fast system scans are available. Updates should be installed manually.
Emsisoft for Business Security: the annual price for 30 devices is $35.9. Emsisoft for Business Security deliver anti-ransomware and anti-phishing, surf protection plus and behavior blocker. Simultaneously the user has access to auto-updates and a command-line scanner.
At the same time, Emsisoft delivers entry to cloud console and components like e-mail notes, and user' permits.
The Business Security suite delivers optimal scanning tools and PUP wiping out.
Emsisoft Enterprise Security: available for a $59.99 for up to 50 Windows devices or servers for one year.
👉🏻 Customer Support
Technical support is available via online chat, email, online form, as well as the community. So, you will be able to find an answer to any question. The knowledge base is rich but no live help and phone support are available.